Laura Rathe Fine Art Announces Tara Conley & Karen Hawkins: "Suspended Fiction"
Laura Rathe Fine Art Announces 2015 Debut Exhibition Featuring Conceptual Works by Texas Contemporary Sculptors, Tara Conley & Karen Hawkins.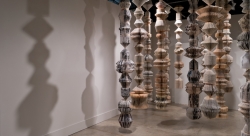 Dallas, TX, December 04, 2014 --(
PR.com
)-- In the January 2015 debut exhibition, Suspended Fiction, Laura Rathe Fine Art features the conceptual works of installation artists, Tara Conley and Karen Hawkins. By incorporating script and literature in various media including bronze, metal and paper, this Texas contemporary artist duo creates pieces that explore the depth and meanings behind the echoes of society's voices.
The "Suspended Fiction" exhibition will be on view through February 14, 2015.
About the Artists
Originally from Bath, New York, artist Tara Conley is a contemporary sculptor who works with a variety of materials including fiberglass, foam, various metals, plastics and glass.
Conley's signature Text series is inspired by script and text from three growing collections: statements she has heard, donated letters and misread signs. The list of phrases itself has almost doubled in the last three years to over 700. These text sculptures are presented in curvilinear scrolls created in cast bronze with various patinas and extend from the wall to cast dramatic shadows, like an echo of voices once heard.
In addition to her cast bronze sculptures, Conley also integrates other mediums as part of her Text series, including etched limestone, embroidered pillowcases, door mats and highball glasses. Seeing her selected phrases in ordinary found objects that are used everyday adds a sense of playfulness and an artistic sense of humor.
Conley holds a BFA from the School for American Crafts at Rochester Institute of Technology. As she is now a resident of Houston, Texas, Conley's work has been documented and published in the collected, limited edition book, Texas Artists Today written by noted art critic and author, Catherine D. Anspon. She has shown her work as part of public installations and exhibitions in Seattle, Massachusetts, New Orleans, Houston and New York.
Visiting the bookmobile every week as a child—returning one stack, leaving with another—Austin artist Karen Hawkins has always loved books. "In my childhood they were my escape. I traveled the world through books. I still love to touch them and smell them."
Today Hawkins continues to surround herself with books—decommissioned ones, pulled from shelves and discarded. Here she finds the materials and inspiration for her three-dimensional sculpted forms. "In creating small and large-scale sculptures from the pages of [these] old, forgotten books," notes Chris Cowden (executive director, Women and Their Work). "Hawkins deconstructs and re-purposes the meaning originally found there. The authority and significance of the printed page—harkening back to the first mass printed book, the Gutenberg Bible—is becoming obsolete in the digital age. In Hawkins' work, the page assumes a different role, becoming a vehicle for nostalgia conveyed through form. Her process (like reading) illustrates the passage of time but meaning is perceived as visceral rather than cerebral."
In this manner, Hawkins creates totems, towering constructs from the sewn pages of old books. Turning the book inside out, the intricately folded pages become undulating, cylindrical structures having the appearance of lathe-turned spindles. Stacked, they reference what the artist sees as cultural icons, which speak to society's move from print to digital.
About Laura Rathe Fine Art
Formally established in Houston in 1998, Laura Rathe Fine Art represents a dynamic artist roster including mid-career, as well as blue-chip contemporary artists. With a primary focus on abstract expressionist painters, LRFA also represents and displays a diverse and select group of sculptors, photographers and new media artists.
Located in the heart of the gallery and design districts of Houston and Dallas, Texas, LRFA regularly hosts artist exhibitions, lectures, and art walks that serve as an integral part of the expanding art scene and community across Texas.
Contact
Laura Rathe Fine Art, Dallas
Courtney Feavel
214-761-2000
www.laurarathe.com
Assistant Director

Contact