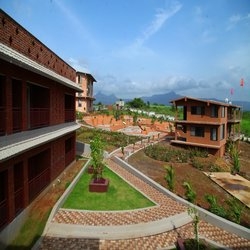 Igatpuri, India, January 07, 2015 --(
PR.com
)-- Diabetes and high blood pressure are not only common among people, but they are continually on the rise and now there is no age limit; doctors are coming across several cases where small kids and youngsters are suffering from diabetes. Both conditions are largely preventable and treatable with proper diet and lifestyle modifications. Nirvana Naturopathy & Retreat's approach behind treating diabetes is to control their blood sugar and reduce external insulin intake. This is generally achieved through proper diet and educating the patient. They encourage patients to monitor their blood sugar several times per day to learn how different foods affect their blood sugar.
It has been observed that allopathic drugs bring prompt relief from pains but for long term cure, one has to make changes in their lifestyles and use age old practices like yoga, meditation and naturopathy to bring peace, prosperity and productivity back in their lives. At Nirvana Naturopathy & Retreat they invite corporate customers to bring their executives and employees for a different and unique type of conclave. At Nirvana, customers can have better interaction amid splendid natural surroundings and at the same time, their bodies too can be cleansed and invigorated thoroughly.
Nirvana Naturopathy & Retreat Center is located at Igatpuri near Mumbai (India), Nirvana Naturopathy & Retreat is established with a purpose to provide healthy lifestyle to all health conscious individuals and improve their quality of life through natural healing coupled with Yoga, to stay disease free unto old age. Nirvana Naturopathy & Retreat Center is built as a dynamic multi-faceted Nature Cure Centre which believes "Cure in Illness, Care in Wellness." Nirvana Naturopathy & Retreat campus comprises of central meditation and meetings hall, massive treatment block with separate floors for ladies and gents, two residential blocks, 3 lake facing exclusive villas, a central dining hall, a zodiac garden, an amphitheater with beautiful manicured gardens and multilevel landscape enhancing the natural gradients of the land.
Chotti Gurumaa (Co-Founder Nirvana Naturopathy & Retreat) says, "People get their eyes checked every other year. They eat healthy food; drink purified water, sleep, and exercise, all in an effort to stay healthy and fit. But people only go to the doctor when they are sick, really sick. Allopathic medicines give you relief from your pain but not a permanent solution of the problem and these medicines may have side effects as well. Naturopathy is the process to address the root cause of your body problems and use natural and safe methods to reduce and eventually get rid of these problems."
Nirvana Naturopathy & Retreat is an ideal place for those people who are looking for alternative treatment and wants to heal Mind, Body and Soul. Also Nirvana Naturopathy & Retreat has a unique approach towards its customers that customers can visit the center with their family members as well as friends during their stay. Hence one can enjoy his stay near nature spend quality time with their friends and family and also take treatments.
Nirvana Naturopathy & Retreat is also running innovative corporate wellness programs that help corporate companies to keep their team moving, engaged on the path to a healthy and fit lifestyle. Corporate companies whose employees are engaged in corporate wellness program get stress relief therapies and massages, are also taught how to handle stress odd situations. Doctors at Nirvana Naturopathy & Retreat also take them through nutrition clinics. Such packages help employees to start working through structures to make their office a more fun and productive place.
Many of customers who have used naturopathic treatments have reported that they have seen positive results like reversing type II diabetes; their Insulin intake has also reduced, controlling fatigue. Many corporate companies who have taken corporate wellness program from Nirvana Naturopathy & Retreat gave a feedback that they now live a better and stress fee life after attending the program.
Naturopathic treatments can be a life changing experience with no side effects. Clients have nothing to lose but everything to gain. The naturopathic philosophy is to heal Mind, Body and Soul and to stimulate the healing power of the body and treat the underlying cause of disease. Symptoms of disease are seen as warning signals of improper functioning of the body and unfavorable lifestyle habits. Naturopathic Medicine emphasizes disease as a process rather than as an entity.
On healthy lifestyles, Chotti Gurumaa (Co-Founder Nirvana Naturopathy & Retreat) quotes, "what people eat is what they become, so if one thing we could tell everyone to stay healthy is to eat right. Most of the health issues can be taken care of only if client eats healthy food preferably vegetarian and less oily food. Most of the diseases are generated from the stomach. So if client take care of what theye eat they will never fall ill, so eat correct food, at right time and stay healthy."
Website:
www.nirvananaturopathy.com
Facebook:
www.facebook.com/nirvananaturopathyandretreat