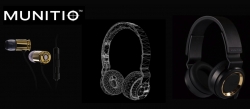 New York, NY, December 23, 2014 --(
PR.com
)-- Munitio
(www.munitio.com)
, known for their distinctive aesthetic design and enveloping submersive sound is setting the standard for what we know as a true premium headphone. Munitio, a high performance headphone company with a meticulous standard of quality, has been reacquired by Daniel Massaro, the creative force who conceived the brand. From the first limited-run release of 18k-gold plated, 9mm bullet shaped headphones (Nines) in June 2010, Massaro's vision for Munitio has centered on engineering audio products with uncompromising attention to detail. With a lifetime of passion for music production and an expertise in manufacturing techniques typically reserved for military and aerospace technologies, Munitio is known for building headphones that are as aesthetically impressive as they are auditorily ferocious.
To share his plans for auditory domination, Daniel Massaro is hosting a Munitio Reset Press Event from 6-9pm EST on January 13th, 2015 in New York, inviting select editors, bloggers and industry insiders to connect with him and the company on a personal level, see Munitio's new project and receive a gift from the brand.
"There's a movement and quality matters. People are waking up…and that's why brands like Munitio need to exist in the world," says Massaro, who is revolutionizing the headphone industry.
Join founder Daniel Massaro and special guests on January 13th, 2015 at from 6-9pm EST for a close up look at Munitio's new project.
You can also pre-order your own pair of Pro30s online beginning on January 9th, 2015 at www.munitio.com