Frith Files Patent
Topfitpros.com assembles digital multi-media into custom tailored workout videos. Designs accommodate age, goals, fitness, personal impairments and strengths, size and layout of space, equipment available, length of workout and breaks, etc. Workouts vary and evolve in response to interactivity. Most exercises have 10 levels of difficulty, and can be progressed, skipped or deleted at the touch of a button. Users can discard changes made during the workout. The system learns from user behavior.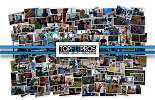 Black Mountain, NC, December 30, 2014 --(
PR.com
)-- Online Automated Personal Fitness Training
Jim Frith, a Harvard educated personal trainer in Black Mountain NC, filed a patent application on December 20 for an automated personal fitness training system, available online starting January 21.
Topfitpros.com
will deliver personalized workouts via an interactive display (mobile phone, tablet, computer, internet TV). Workouts are highly tailored. They will use Frith's cutting edge approach to personal fitness training that won him 2014 Best of Western North Carolina awards for the Most Innovative Business and Best Physical Trainers. Finally, the world will have at its fingertips highly affordable — and truly personal – automated personal training.
Interactivity begins with a screening process in which the user inputs goals, age, fitness levels, joints that may need gentle treatment, and a number of other bits of information. This background information, which any competent personal trainer would require prior to training, enables the design of highly tailored and individually assembled interactive workouts. Each Topfitpros.com workout consists of digital multi-media elements assembled personally for the user, then provided as a continuous video. It includes exercise video segments, variable breaks between exercises, verbal notification of what exercises are coming up next, and interactivity allowing the user to modify the workout on the fly.
Users are accommodated for differing needs for breaks between exercises, types of exercises, and parts of the body that may have impairments. Other variables that impact the intelligent design of workouts include the size and configuration of the workout space, the equipment available, and how long the user has to exercise. These variables can change from workout to workout. Similarly, body part specific weaknesses and strengths, energy levels and capabilities can change from one day to the next and over time as fitness levels change. Topfitpros.com workouts will vary accordingly.
Users can also change workouts wholesale by increasing or decreasing general difficulty levels or by changing stated goals or default break lengths. Alternatively, they can change the workouts one exercise at a time either before or during the workout. If the user doesn't like an exercise called for by the algorithm, it can be skipped or deleted. Or, if an exercise is too easy or too difficult, a harder or easier version of the same exercise can immediately replace it at the touch of a button. Most exercises are broken down into 10 different levels of difficulty, and within each level there may be further gradations of difficulty.
Users are guided to the levels and types of exercises most appropriate to them, then empowered to provide feedback to modify the workout as needed. After workouts, users can choose to keep the changes made during the workout. The system will even learn from the user's behavior, so if the user pauses the workout to move from one place to another, the user will be asked at the end whether that pause should be in every workout.
Contact
TopFitPros
Eric Shapiro
828-808-9487
www.topfitpros.com

Contact