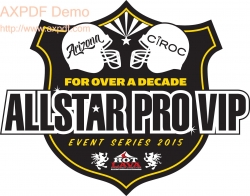 Phoenix, AZ, January 08, 2015 --(
PR.com
)-- These events have been established as the #1 place to be seen by tourists, celebrities, local residents, as well as professional athletes for over 10 years. These star-studded events have attracted individuals in the 21-45 age groups wanting to get a glimpse of some of the world's best professional athletes and celebrities up close and personal.
Some of the biggest stars (past and present) in the NFL have hosted The Allstar ProVIP Event Series: Michael Strahan #92 New York Giants, Takeo Spikes #51 San Diego Chargers, Lance Briggs #55 Chicago Bears, Darren Sharper #42 New Orleans Saints, Braylon Edwards #81 San Francisco 49ers, Fred Taylor #21 of the New England Patriots, Michael Vick #7 Philadelphia Eagles, Ray Rice #27 Baltimore Ravens, Patrick Peterson #21 Arizona Cardinals, Trent Williams #71 Washington Redskins, Jason Pierre-Paul #90 New York Giants, Marshawn Lynch #24 Seattle Seahawks, Maurkice Pouncy #53 Pittsburgh Steelers, Mike Pouncy #51 Miami Dolphins, and LeSean McCoy #23 Philadelphia Eagles to name a few. Last year over eight thousand enthusiastic customers attended Hot Lava Entertainment's events.
Thursday, January 22nd 2015 "The 8th Annual Players' Lounge" The official pregame mixer and celebrity gifting suite for the sports and entertainment industry in celebration of the Allstar Game. Official attendees are DeMarco Murray #29 RB Dallas Cowboys, Odell Beckham Jr #13 WR New York Giants, DeMarcus Ware #94 LB Denver Broncos, Eric Dickerson Hall of Fame RB and many other Allstars still confirming.
Friday, January 23th 2015 "The Allstar ProVIP Kickoff Party Starring the Legendary DJ Drama
Sunday, January 25th 2015 "The 9th Pro Ballerz 2015" Starring DJ Envy of the world renowned syndicate radio show "The Breakfast Club" The official Allstar host of this event will be Arizona Cardinals star CB Patrick Peterson #21.
Hot Lava Entertainment and Productions is a Honolulu, Hawaii-Atlanta based concert/event promotion company with over 18 years of experience in the event promotion industry. Over 3000 patrons are expected to attend these marquee events with a majority of the clientele being NFL Players with friends, "A" list celebrity associates, professional sports fans, and tourist. These events are open to the public. General ticket prices will range from $40.00 and up.
All events will be held at:
The International Boutique Nightclub 4405 N. Saddlebag Trail Scottsdale, AZ 85251
Event doors open from 9pm – 2am
For more info call 808-429-0715 VIP and Table Service call 408-213-9500 www.Intlscottsdale.com