Sioux Falls Wedding Officiants, of Sioux Falls, SD Were Recently Awarded with the Couples' Choice Award, 2015
One of the most prestigious awards in the business of wedding officiants, the Couples' Choice Award renders any wedding officiant service provider as a part of the highly reputed topmost 5 percent among Officiant businesses in the country. Recently this great recognition was awarded to the Sioux Falls Wedding Officiants company for the year 2015. This great honor stands testament to the consistent reception of outstanding reviews from their satisfied clients on Wedding Wire.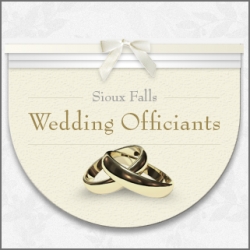 Sioux Falls, SD, January 17, 2015 --(
PR.com
)-- This is to announce the happy news that the Sioux Falls Wedding Officiants which is a local Wedding Officiant Service in Sioux Falls, SD, were recently awarded with the prestigious Couples' Choice Award for the year 2015.
With the reception of this highly celebrated recognition Sioux Falls Wedding Officiants have been rendered as a part of the top 5 percent of Officiant Business's in the nation, who stands out by offering top notch officiant services.
At Sioux Falls Wedding Officiants, the pioneers Joel & Cheryl Grams has been performing weddings since 2003. They work towards offering a highly personalized service at weddings while keeping in mind to keep it short and sweet. They understand that a wedding day is the most important day in a person's life that one will remember and cherish forever. So as wedding officiants they have a reputation for being extremely helpful and highly flexible and accommodating, so that the bride and the groom can enjoy their special day stress free.
As suggested by most of their happy previous clients both Cheryl and Joel Grams are known best for their "easy to work with" style of work and impeccable professionalism. They started their company after realizing that there is a great need for good wedding officiants in Sioux Falls, SD. As was the trend in Sioux Falls, couples were prohibited to marry outside or if they lived together or had a child and also for a number of other reasons. But this couple decided to start up their own wedding officiant service to perform weddings for their friends. As they were strong believers of the fact that living together, or having a baby together as well as being in love is just the right reason to be married and committed to one another. And soon their business began to grow by the word of mouth gradually emerging into a real business.
The Couples' Choice Award is only awarded to those wedding officiant organizations who continue to receive positive reviews from satisfied clients consistently for a considerable amount of time. Thus, receiving this huge recognition can attest to the fact that the wedding officiant service provided by Cheryl and Joel Grams at the Sioux Falls. Contact details: 605-368-1931
Website: http://www.someonetomarryus.com
Contact
Sioux Falls Wedding Officiants
Cheryl Grams
605-368-1931
http://www.someonetomarryus.com
Call or text 605-370-3859

Contact
Multimedia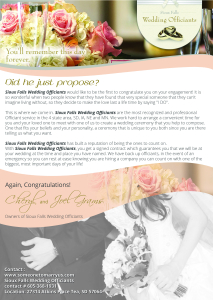 Sioux falls Wedding Officiants flyer containing information about this company.