Durable, Portable and Easy-to-Install PodRoof Steel Shipping Container Roof Kits Now Available in United States
Launched in Australia, PodRoof steel shipping container kits were introduced in the United States in 2014. The PodRoof kit offers a durable and easy-to-install option, made of American galvanized steel, for protecting work areas, creating storage spaces and more. For more information, please visit www.podroof.com/us.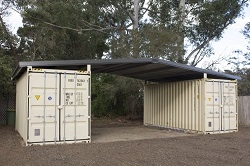 Crystal Lake, IL, January 28, 2015 --(
PR.com
)-- Offering the highest-quality roof available for outdoor shelters, PodRoof steel shipping container roof kits are now available for the first time in the United States. Durable and long-lasting, PodRoof kits are rated for winds up to 110 miles per hour and 25 pounds per square foot snow load, and come with a 20-year guarantee.
Made of American galvanized steel, PodRoofs are designed for quick and easy construction, and the kits can easily be disassembled, transported and reassembled as needed. The PodRoof kits are 20 feet long and attach to two 20-foot shipping containers. They can be combined for longer spaces and available in multiple span widths and custom sizes.
"Our unique Podroof kits were designed with durability and usefulness in mind. Even better, they are easy to assemble and can be used as permanent or temporary, portable roof structures," said Marc Niemann, PodRoof. "No matter where you are, if you need a roof over your head, Podroof can protect you and your work surface or storage space from the elements."
Various roofing options as well as custom roofs are available, including optional painting and gutters; the easy-to-use kits are designed to be used with standard shipping containers. PodRoof offers free delivery within the continental United States.
"Unlike fabric covers which quickly show wear and tear, the PodRoof is durable and will last for many years. It doesn't require maintenance or upkeep. It is the ideal solution for all-weather protection," Niemann added.
More information about PodRoof kits is available at
www.podroof.com/us
or by calling 888-340-5460.
Contact
Podroof Inc.
Marc Niemann
888-340-5460
www.podroof.com/us

Contact