Solving the Cisco Skills Gap – Leading Partner Finds Hidden Talent with Technical Apprentice Program for Returning Veterans and Entry Level Engineers
In 2013, Adcap launched its one-of-a-kind Cisco Technical Apprentice Program that focuses on training and mentorship as much as practical experience. "Adcap works in a niche industry. For this reason, we struggled to find qualified talent with the necessary experience," says Wilkins. "But instead of complaining about the lack of a talent pool, we set out to create one."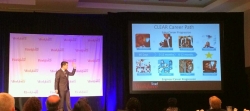 Alpharetta, GA, February 05, 2015 --(
PR.com
)-- Talent Acquisition managers across the country are suffering a shortage of quality technical talent. Yet, they continue to post jobs that require "3+ years of experience in a related field."
It's the line at the bottom of any entry-level job description that fills job candidates – especially recent graduates, returning veterans, and people who are looking to switch careers – with a sense of foreboding and dread. It's also the most recognizable sign of something called "the skills gap" — the phenomenon that Bradford Wilkins, Vice President Talent Management at Adcap Network Systems, believes is hurting American businesses.
The skills gap is the imbalance between the needs of an employer and the skills of a potential employee. In many highly-specialized fields, employers are reluctant to hire employees who don't have actual experience performing a specific job. And the unemployed, therefore, have no viable way of acquiring these skills and experience.
At Cisco Gold Partner Adcap Network Systems, things were no different.
"Adcap works in a niche industry. For this reason, we struggled to find qualified talent with the necessary experience," says Wilkins. "But instead of complaining about the lack of a talent pool, we set out to create one."
In 2013, Adcap launched its one-of-a-kind Cisco Technical Apprentice Program that focuses on training and mentorship as much as practical experience. Since implementing the program, Adcap has been recognized as Cisco Partner of the Year, a Top Workplace in Atlanta by the Atlanta Journal-Constitution and the #1 Small/Medium Business to Work for in Atlanta by the Best and Brightest.
As they prepare to make final selections for the winter 2015 training session, CTO Rolf Versluis is enthusiastic at the turn-out: "In the last two years, over 2,500 talented engineers have come to our office to interview for this position through a very practical technical evaluation process. I wish we had jobs for all of them and hope people realize there is a huge group of people who have the skills and desire to be very successful in our industry who are looking for experience!"
Cisco Technical Apprentices are given paid, broad exposure to key areas — including voice, datacenter, and route/switch technologies. They work with cutting-edge technology from companies like Cisco, NetApp, and VMWare. They also have the opportunity to gain practical experience solving technical problems for real customers. In addition, they receive mentorship from seasoned veterans like the VP of Engineering Josh Cain and Adcap's Solutions Architects — an elite group that includes Cisco Certified Internetwork Experts (CCIE).
"This program has been a game changer and has yielded some of our most talented junior engineers," said VP of Engineering Josh Cain.
Unlike most mentor programs that provide a lunch meeting just once per quarter and the occasional email exchanges, Adcap mentors share their craft and best practices with their apprentices with hands-on training, experience and career-coaching.
"An apprenticeship is really just a stepping stone," says the company's first ever Technical Apprentice and current Deployment Engineer, Jordan Burnett. Jordan has been promoted twice and given five pay raises in just 18 months. "You need to make the company believe that you are so indispensable that they cannot afford to lose you when the apprenticeship is over."
Perhaps the biggest benefit of this system is that, since experience doesn't matter, Adcap can hire based on potential – which provides great hope for everyone who dreads the phrase "3+ years of experience in a related field." Adcap Vice President of Talent Management Bradford Wilkins is presenting at numerous conferences across the country in 2015 showing other HR and Talent professionals how to create their own apprentice programs.
For more information about Adcap's technical apprenticeships and how to replicate their program, contact Bradford Wilkins at careers@adcapnet.com
ABOUT Adcap Network Systems
Adcap Network Systems
(www.adcapnet.com) is a Cisco Gold Partner and IT Solution Provider based in Alpharetta, Georgia with locations throughout the southeast. Adcap was named 2013 Cisco 11 State South Area Partner of the Year and was named one of the 100 Fastest Growing companies in Atlanta by the Atlanta Business Chronicle. The Adcap team has many years of experience in planning, deploying, and supporting business technology solutions in the area of Unified Communications, Data Networking and Security, and Converged Computing Architecture.
Other Recent Awards Include:
-Top Workplace in Atlanta by Atlanta-Journal Constitution
-Inc 5000 Fastest Growing company in USA by Inc Magazine
-Atlanta's 101 Best and Brightest Companies to Work For!
-Cisco Architectural Excellence in Collaboration
-Atlanta's Top 12 Women-Owned Business by Atlanta Business Chronicle
For more information on Adcap Network Systems, contact Jenny Corcoran at jcorcoran@adcapnet.com
Contact
Adcap
Brad Wilkins
678-781-4450
adcapnet.com

Contact