RLS-CMC, Inc. Completes Fast-Track DAS Installation at the Paris and Bally's Hotel Towers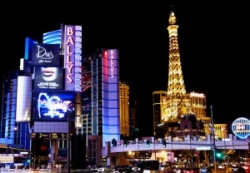 Las Vegas, NV, February 08, 2015 --(
PR.com
)--
RLS-CMC, Inc.
successfully completed the DAS installation of the Paris and Bally's hotel towers, with the typical schedule cut in half. RLS was able to complete what one Caesar's executive called "impossible."
Both of the Las Vegas Strip casinos are consistently at maximum capacity throughout the year, while catering to the large amount of convention goers and tourists that the Las Vegas area attracts. Due to the high traffic nature of both venues, the schedule was compressed to accommodate the hotels and their guests. All tasks included in the installation became critical path activities and allowed zero room for error. The RLS team was able to rise to the challenge and complete the projects on schedule and, most importantly, satisfy their customers' needs.
"The real challenge was completing sixty-nine floors concurrently," said President of RLS, Roger Sanchez. "It took a tremendous amount of coordination to receive the floors on Monday morning and return the completed floors on Friday by noon. There was zero margin for error."
With Paris and Bally's being in prime location on the Las Vegas Strip, their installed network will be fully prepared to service the nearly forty million visitors expected to visit the Las Vegas area.
RLS-CMC, Inc. is a construction manager and engineering consultant specializing in wireless network deployment. RLS has deployed large wireless networks in Chicago, Dallas, Las Vegas, Philadelphia, Phoenix, and San Francisco.
Contact
RLS-CMC, Inc.
Stephanie Wahl
630-370-7711
www.RLSanchez.com

Contact