CANNAPAGES Celebrates 5 Years as Colorado's Original Recreational and Medical Marijuana Directory
Cannapages was one of the first media companies on the scene as the medical marijuana industry exploded in Colorado in late 2009. To celebrate another successful year in publishing and expansion, the company announces an epic 5-Year Birthday Spectacular in Denver with music, "recreational" festivities, and cake for all legal attendees.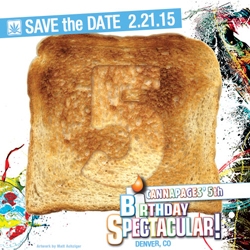 Denver, CO, February 11, 2015 --(
PR.com
)-- The birthday party of the year is back as
CANNAPAGES
gathers loyal readers for another epic "Birthday Spectacular" in Denver on February 21st. The directory magazine celebrates five years in the premiere cannabis state, most notably as the last remaining "original" industry media company, with roots dating back to the explosion of Colorado's medical marijuana scene in late 2009. Now a yearly tradition, the RSVP-only, 21+ party features music, live art, complimentary "party favor" giveaways, and of course, "recreational" birthday cake for all legal guests.
Festivities commence at 8pm at the Roxy Theater in Denver's Five-Points neighborhood. This year 40 Oz to Freedom, world renowned Sublime tribute band, will headline, with local favorites CollieRAD and Measured in Mountains. A variety of live painters, palm-reading cannastrologist, and early-bird gift baskets have all been announced, as the company has a whirlwind of plans for guests.
"We're nothing without the community," said CANNAPAGES CEO and co-founder, Nathan Johnson. "An unforgettable party is our way of saying thanks." Johnson reported that the company has grown exponentially in the past year, with an estimated readership surging to over 60,000 per quarterly print issue in both Denver/Boulder and Colorado Springs markets, not to mention a 400% increase in website visitors. "Our new and improved online Field Guide has also helped make year-five a success."
One widely anticipated hallmark of the CANNAPAGES Spectacular is the annual unveiling of the Birthday Cake, a massive "recreational" infused dessert-of-art, baked by local edibles master Daniel Henrickson. More than 2000 people have eaten the "CANNAPAGES Cake" throughout the years; popularity and demand lead Henrickson to publish the recipe in his column for the latest edition of Cannapages. He and the Editors will also offer a delicious sampling of toasted bread with infused honey butter throughout the night.
The Roxy was also the venue for the "Spectacular" in 2014, when Cannapages made international news incorporating the event into the renowned "Great Bud Bowl", as the first two recreational-cannabis states, Colorado and Washington, competed in the Super Bowl. Cannapages editors have already announced that this year will eclipse the last by epic proportions. "It may sound like a mere half-decade," Johnson noted. "But in the blossoming marijuana industry, that's as good as a lifetime. This is living history."
For legal reasons, party-goers must RSVP online at birthday.cannapages.com to be invited, but there is no official entry fee. Guests will instead purchase a limited-edition commemorative poster at the door for $15 (or for only one penny if dressed in full-body "Toast" costume).
Contact
Cannapages.com
Micah Johnson
720.339.2259
www.cannapages.com
For Press Inquiries, email editors@cannapages.com

Contact