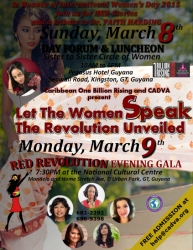 Howey In The Hills, FL, February 17, 2015 --(
PR.com
)-- The U.S based Caribbean American Domestic Violence Awareness organization (CADVA) and Caribbean One Billion Rising are coming together for International Women's Day in Guyana, South America beginning with a Women Speaker Series-Sister to Sister Circle on Sunday, March 8th, 2015 and a Luncheon to be held at the Pegasus Hotel in Kingston, Georgetown, Guyana. March 9th, 2015 an Artistic presentation of music, spoken words and drama honoring several local women with a Red Revolution Gala at the National Cultural Centre, Georgetown, Guyana honoring women under the theme: "Let the Women Speak: The Revolution Unveiled." Participants are from various demographics, including the US.
CADVA's joins One Billion Rising across the Caribbean with Risings for the Revolution theme which has already begun with the Y3K group from Guyana who performed in the NYC Uprising event on Saturday, February 7th, 2015
CADVA continues to reach across our Caribbean and American demographics to ensure this message of hope, empowerment and prevention remains a central focus. A special tribute to the late Dr. Faith Harding will be held.
Details of all events, including locations and times for guests are posted on the CADVA website at www.cadva.org on the events page.
CADVA is a US based Non-Profit Organization focusing on advocacy against Domestic and other forms of Violence by grass roots community efforts, partnering and involvement throughout the Caribbean Region and the Diaspora. Dianne Madray is the representative for Caribbean One Billion Rising as well as CADVA's COO and Programme Director.
Media Contact:
Email: help@cadva.org
US#: (407)-404-0331
US#: (917)-399-5764
Guyana#: 011-591-682-2282 or 011-592-696-9398
Website:
www.cadva.org