Whispering Hope Stables Gets an "A" in Horse Care: Hay Analysis Shows Competitive Advantage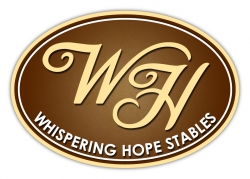 Raleigh, NC, February 24, 2015 --(
PR.com
)-- Whispering Hope Stables is a premier horse boarding facility located just 10 minutes from downtown Raleigh that defines its competitive advantage around horse care and the community.
Most recently, Whispering Hope Stables had an independent nutritional analysis conducted on their Timothy hay, out of New York, and the hay analysis focused on protein, fiber and the quality levels. In the article, Choosing Hay for Horses, by the University of Kentucky, "crude protein levels for Timothy hay should range between 7% and 11%." The hay analysis for Whispering Hope Stables came back at 11.1%.
Additionally, in the article, All About Hay, written by Audrey Pavia on HorseChannel.com, "…adult horses require 10 to 11 percent crude protein in their overall diet…" meaning that Whispering Hopes' hay alone, not including the grain given or forage in the pasture, provides the essential need of protein to their horses.
The owner of Whispering Hope Stables, Amy Peters, explains "if you want great clients, clients you love and who love you right back, you need to be crystal clear on exactly what kind of clients you want to work with and what they value."
One of Whispering Hope Stables' key differentiators is around horse care. "Whispering Hope Stables stresses that the horses that call this place home receive the best hay, grain, attention and care," says Peters. And as a result of this, their members value and are excited about the quality of care their horses receive.
Outside of the science, Whispering Hope Stables focus on conducting daily horse inspections, leg checks, hoof picks and monthly inspections from an outside nutritionist. "Daily we spend time doing full body inspections, leg inspections, and picking of the hooves because horse care is extremely important to Ms. Amy," says the Facility Manager, Erik Tecu.
Peters concluded that "being able to accurately communicate our competitive difference in horse care is important in finding clients who love us and value what we do. At Whispering Hope Stables we recognize that equestrians who value the science and quality of horse care, as key components in their decision-making process for selecting a horse boarding facility, will make the best clients."
Lenox Martin (lenoxmartinpr@gmail.com), Lenox Martin is a free-lance writer who covers various businesses.
Contact
Lenox Martin
(919) 610-6653

Contact