Some Fresh Air in the IoT Domain: VIPER is Live on Kickstarter
VIPER (Viper Is Python Embedded in Real-time) is on Kickstarter now. Most of the backers are entrepreneurs, programmers, IoT experts, Python enthusiasts. VIPER is the first design environment for embedded smart devices. It allows product designers quickly develop cross-platform and high level interactive commercial solutions that exploit the capabilities of the Internet of Things (IoT).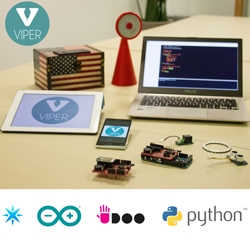 New York, NY, March 03, 2015 --(
PR.com
)-- TOI – ThingsOnInternet, a startup funded in New York City, is now on Kickstarter with VIPER, an easy to use development suite for interactive design of Internet of Things (IoT)
bit.ly/kickviper
What VIPER means? VIPER stands for "Viper Is Python Embedded in Real-time."
VIPER is an easy development suite for the high level design of interactive objects, ready for the cloud and the Internet of Things (IoT). With VIPER it is possible to develop in Python for Arduino, UDOO and Spark. VIPER is also multithreaded and real-time.
After a detailed market analysis, the company discovered that designers, makers and programmers face many common challenges. Designers aim to create behaviors that can co-exist at the same time and they are often frustrated by "anomalous" and unexpected results on their projects. Makers, who have higher competences, invest a lot of time in understanding how to code multithreaded behaviors, how to manage interrupts in C++, etc. and sometimes their code become really hard to be maintained. Programmers are frustrated by executing "boring" tasks for their customers, one of them is related (again) to multithread, interrupts, callbacks, timers and exceptions.
Millions of developers know Python, a language opportunely created to be easy to learn. VIPER makes Python available for commercial interactive products, finally opening up the potential for the Internet of Things devices to be as pervasive as mobile devices in their ease of design interactivity.
With VIPER it is possible to focus on the design aspects of interactive projects without caring about non-added value elements like: low level programming, device and sensors wiring, communication protocols, mobile Apps development, etc. VIPER is a cross platform and compatible with all sensors and electronic kits.
To understand what is and how VIPER can revolutionize the design of many objects around us, it is necessary to start from the importance of microcontrollers: basically, microcomputers with low computing power and little memory. These devices control many of the objects of everyday life. They are used in cars, in vending machines, in our WiFi routers and even in household appliances.
Devices like Arduino, UDOO, ST Nucleo, Spark Core, Photon and the last released Spark Electron are microcontroller boards that revolutionized the world of amateur and semiprofessional electronics. They allowed hundreds of thousands of people around the world to give objects a new life by making them interactive, able to communicate and interact with humans. Unfortunately, programming them is quite easy for engineers and computer scientists, while most of the users are able to exploit only part of the huge potential of such incredible boards. Here comes the idea of TOI to extend the world of smart and interactive object design to everyone. VIPER allows in a few clicks to convert a common lamp in a smart assistant that reminds us to take the umbrella, turn on the air conditioning while monitoring the house for intrusions.
VIPER is also a professional platform that can be used in interactive shops, soft house home automation, art installations and museums 2.0, as well as in industrial automations, smart farms and agriculture.
To get the project funded the startup chose Kickstarter, the largest crowdfunding platform in the world. Why Kickstarter? Because, despite a little amount of funding is requested, a large community of co-developers is needed. Kickstarter is the largest showcase in the world for projects like VIPER: a product that can act as a real turning point for the design of DIY and professional IoT devices.
Contact
TOI Things On Internet
Gabriele Montelisciani
+1 917 720 5537
http://thingsoninternet.biz/

Contact