INDERMICA Oxyderm Wrinkle Cream Featured in Elevate Magazine
Earth Day Special Feature -- "Your Guide to Nixing Toxic Ingredients"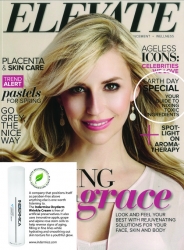 Greenbrae, CA, March 03, 2015 --(
PR.com
)-- Oxyderm Wrinkle Cream by INDERMICA Inc. is an innovative skin care product which is free of artificial preservatives; uses innovative apple, grape and alpine rose stem cells to help reverse the signs of aging, helps filling in fine lines while hydrating and smoothing-out skin texture for a youthful glow.
The Patent Pending formula offers the benefits of:
-Fast penetration
-Cell cleansing by displacing CO2 from the skin
-Forehead globular muscular relaxation
-Wrinkle reduction and an overall soft-skin feel. The combination of natural ingredients blended with new-age compounds bridge the gap between science and nature.
About Earth Day 2015
Earth Day's 45th anniversary (April 22nd) - could be the most exciting year in environmental history. The year in which economic growth and sustainability join hands. This is the year in which world leaders finally pass a binding climate change treaty.
About Elevate Magazine:
Elevate Magazine has been Canada's authority on cosmetic enhancement, wellness and anti-aging for over 13 years. Elevate covers every aspect of cosmetic enhancement, offering readers the latest health and beauty news.
About INDERMICA Inc.
INDERMICA Inc. is a manufacturer and global distributor of comprehensive skin restoration professional treatments and take-home systems. The global presence of INDERMICA labs allows them to provide skin-rebuilding formulations that accommodate all skin types throughout the world; committed to creating products that gently return the skin to a young, healthy glow.
Hydroquinone and paraben free; the INDERMICA innovative skin care and treatment products boast a combination of natural ingredients blended with leading-edge compounds. They use a comprehensive and scientific process of layering molecules to prepare, correct and protect damaged and aging skin.
Contact Information:
Media Enquiries:
Sandra J. Freer comments@sdapublishing.com
416-239-0781
For product information:
www.indermica.com
Contact
INDERMICA Inc.
Sandra J. Freer
416-239-0781
www.indermica.com
info@indermica.com

Contact