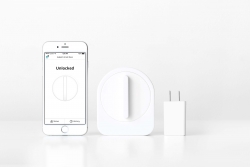 Palo Alto, CA, March 10, 2015 --(
PR.com
)-- Stanford student raised more than $500,000 dollars 10 days after his product launch on
Kickstarter
. Sesame - the world's first instant smart lock - was first introduced on Feb. 25, 2015.
Jerming Gu, founder of CANDY HOUSE Inc., is a mechanical engineering master candidate from Stanford University. Originall from Taiwan, Jerming is a someone who usually thinks outside the box. Disruptor, troublemaker, entrepreneur, you name it.
Originally from Taiwan, Jerming got the idea for smart lock because his experience living in Asia where technology is relatively less developed.
"There has got to be smarter ways to live our lives," Jerming said.
Jerming said everyone paid cash for everything back in Taiwan. He only learned to using credit frequently after moving to Silicon Valley to avoid looking like a tourist everywhere he went.
"Credit cards are also disappearing with payment apps on smartphones. And the next thing to disappear in people's pockets are keys," said Jerming with a touch on his pocket.
Sesame allows users to lock and unlock their doors using the Sesame app on their smartphones. It is the only smart lock that syncs the movement of the lock with the phone, providing exact control of the angle to which the lock turns.
With five-patented design, Sesame works with just about any deadbolt in the world. Users can install it in seconds, without replacing existing lock or removing anything. Current model is optimized for US/Canada/Australia Markets.
CANDY HOUSE also offers optional access point, which connects Sesame to the Internet when plugged into any nearby outlet. It lets users control Sesame wherever they are.
With Internet connection capability, users can allow guests in remotely. They can also control who has access and when. To ensure safety, the Sesame app also send out a notification whenever the door opens or closes.
Kickstarter: https://www.kickstarter.com/projects/1425492550/sesame-your-key-reinvented
Company
: http://candyhouse.co
Facebook: https://www.facebook.com/candyhouseINC
Twitter: https://twitter.com/candyhouse_Inc