StudyPad Launches "Splash Math SpringBoard," a Contest to Motivate School Students to Practice More Math and Master Key Skills
US based Teachers in Grades K-5 Can Participate in First Ever Splash Math Contest Designed Such That Any Classroom Can Win Exciting Prizes.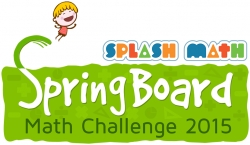 Austin, TX, March 11, 2015 --(
PR.com
)--
StudyPad, Inc
., a leading ed-tech company with over 10 million children learning math on it's Splash Math™ range of math learning solutions including 10 of the Top 200 apps in Apple's Educational Apps category, today at South by Southwest (SXSW) Education, Music and Media Conference announced the launch of Splash Math SpringBoard, their first ever contest created to motivate school students in Kindergarten through Grade 5 to practice more math and master key skills so they end the school year with math confidence, well prepared to graduate to the next grade.
Splash Math provides children in grades K-5 with fun, interactive math practice problem sets which are highly adaptive and tailored to a student's skill and grade level—whether for regular daily practice, to "catch up" to grade level, or to work on math problems that challenge students beyond their grade level. Splash Math Classroom Edition,
https://www.SplashMath.com/ClassroomEdition
, is the specialized learning solution designed particularly for schools and classrooms, and is being used by teachers and schools extensively. Splash Math is based on the U.S. Common Core curriculum, providing consistency and alignment for teachers and schools with their math education program.
"With over 70,000 teachers using Splash Math in their classrooms for math practice and reinforcement, we have some insight into the school year as it progresses, and one learning we have garnered is that this time of the school year is a particularly important period to strengthen math learning," said Arpit Jain, co-founder and CEO of StudyPad. "Spring is the period to reinforce learning, prepare for standardized tests, and be ready to graduate with confidence into the next grade. With the new Splash Math SpringBoard contest, our aim is to help teachers achieve this goal, that is, help them springboard their students into the next grade."
Splash Math SpringBoard is a free, six-week nationwide math contest for classrooms, officially beginning on March 16th 2015. Points are earned by students based on the number of math problems they attempt on Splash Math, and their degree of accuracy. Details of the contest are on the webpage
https://www.splashmath.com/spring-board-teachers
.
The contest has been designed such that classrooms not only compete with each other for the Grand Prizes to be won at the end of the contest period, but also compete with themselves via "Challenge Yourself" weekly challenges where they aim to achieve the points target set for the week. All classrooms who achieve the weekly targets win prizes.
One unique feature of Splash Math SpringBoard is that, to make it a completely fair contest, StudyPad has announced that all interested teachers will be provided free access to Splash Math Classroom PREMIUM Edition, a $7 per student value, till the end of the 2014-2015 school year. This is to ensure that all teachers have access to the enhanced features of this premium edition like cross-grade content, device independence, that is, seamless access of Splash Math on iPads and laptop and desktop computers, and advanced classroom management and reporting tools. "We want to make sure all our contest participants have the same fair chance of winning," commented Arpit Jain.
Details on Splash Math SpringBoard are available at
https://www.splashmath.com/spring-board-teachers
About StudyPad
Since its inception in 2010, StudyPad, a premier education technology company, has successfully infused creativity into content design and development to build award-winning math practice apps and web-based math education solutions to help students strengthen their math learning in a fun and engaging manner. StudyPad has been honored with numerous awards including "Best App Ever" 2011, Tabby Awards 2012, Stevie Awards 2013, and Parents' Choice Award 2015. StudyPad is based in Silicon Valley with a development team in Delhi, India. The company is backed by leading seed and angel investors.
Contact
StudyPad Inc
Arpit Jain
650-440-8389
https://www.splashmath.com

Contact