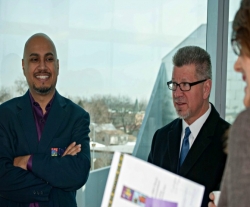 Atlanta, GA, March 12, 2015 --(
PR.com
)-- Meeting the need to increase diversity, inclusion, and opportunities for kids of all ages and backgrounds, Chicago's Robert Renteria (Barrio), and Atlanta's Corporate Kid Group recently formed a strategic partnership.
Renteria's publicist stated that under the agreement, Barrio and Corporate Kid Group will share combined resources designed to guide teens to a new path and experiences. There is no exchange of equity involved in the arrangement.
"Our companies are very similar where they need to be, and very different in other aspects," stated Brian Thompson, CEO & Managing Director of Corporate Kid Group (http://www.corporatekid.org). "This gives our programs a full profile to help kids in even more ways. This is a team that will make a difference."
Complimenting their own capabilities by establishing a relationship led to the desire to formulate a strategic partnership. Both organizations expect to execute and embrace models for solutions by combining their expertise and knowledge.
Robert Renteria (www.fromthebarrio.com) says the goal of the collaborative partnerships is to distribute resources across the country in a effort to be part of the solution to the issues of drugs, gangs, violence, bullying, education and lack of employment opportunities.
"The Barrio books and curricula will serve as teaching tools that will be used as a road map to help get our kids out of our poverty Ghetto's and Barrios and into the Corporate Boardrooms," Renteria concluded.
"Mr. Renteria is our only author who has developed anti-violence, youth initiatives, and multiple partnerships," stated Fran Briggs, eMediaCampaigns!' Director of Operations, and publicist to Robert Renteria. "He continues to be recognized internationally for his effectiveness in transcending culture by inspiring youth from different backgrounds."
For more information about Corporate Kid Group, please visit www.corporatekid.org, email bthompson@corporatekid.org or call CEO & Managing Director, Brian Thompson. 770.852.0102
To learn more about Robert Renteria and Barrio including media opportunities and speaking engagements, please visit http://www.fromthebarrio.com, email robert@fromthebarrio.com , or call 312-933-5619.