Young Business Guru Talks "Global Competition" with High Schoolers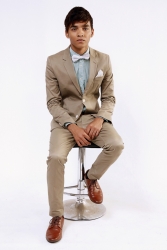 Hartford, CT, March 16, 2015 --(
PR.com
)-- 21-year-old multi-lingual CEO, award-winning author, international charity founder, composer, lyricist, and Whittier College senior,
RJ Tolson
, stressed last May to hundreds of students at Emmy and Tony Award winning actress and Academy Award and Golden Globe Award nominee Cicely Tyson's East Orange, N.J. school, the Cicely Tyson Community School of Performing & Fine Arts, "What you guys have to recognize is you have global competition out there…when you have that competition you have to achieve, strive to be great. If you don't you're really going to lose the opportunities like jobs, achieving your dreams." On Monday, March 16th, Tolson plans to deliver this message to New England high schoolers in Meriden, CT at a 'Francis T. Maloney High School Only' event. "I want the students to recognize that even to the extent of their country that's not all there is out there that should matter," says Tolson, "to compete in a global economy they must strive to be great."
At only 18 years of age, multi-lingual American Tolson became CEO of a multi-divisional corporation, founded an international charity, Forever Trust, and published an award-winning coming of age science fiction and fantasy book, Chaos Chronicles Book 1: Zephyr The West Wind. An adventure filled folk tale of superheroes, mythology, magical realism, paranormal power and creatures, Zephyr The West Wind, garnered RJ Tolson a Finalist Award in the 2013 Beverly Hills Book Awards and 2013 National Indie Excellence Book Awards, while his dynamic Zephyr The West Wind Original Book Soundtrack hit Amazon.com's 'New Best Sellers List' shortly after its release last fall.
Tolson's recently released nonfiction self-help book, "Project Limitless Volume I: The Success Initiative," will be an integral part of his presentation to the Meriden high schoolers. Philosophy, epistemology, entrepreneurship, business, money, investing, and time & stress management are part and parcel of The Success Initiative. Readers' Favorite, an industry standout reviewing "for icons and celebrities like Random House, Penguin Group, Harper Collins, Simon & Schuster….James Patterson, Nicholas Sparks, David Baldacci…" released a 4 star review of Project Limitless Volume I: The Success Initiative. Official Readers' Favorite Reviewer and Amazon.com #1 Bestselling Author, Michael Beas, commented "I felt the book was well-written in an inspiring manner that will benefit all. From start to finish, this book had me contemplating the essence of life and my purpose in the world."
Contact
Woods & Associates Management Firm
Eloise Woods
866-862-1932
www.woodsandassociates.net/

Contact