RedLand Strategies Appoints New Strategic Security Advisor, William F. Flynn
RedLand Strategies appoints former Deputy Assistant Secretary, U.S. Department of Homeland Security's Office of Infrastructure Protection, William F. Flynn, as Strategic Security Advisor.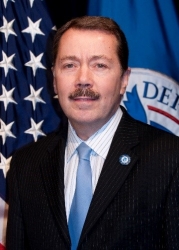 New York, NY, March 17, 2015 --(
PR.com
)-- RedLand Strategies President and Managing Director Michael Balboni announced today that Mr. William Flynn has joined his firm as Strategic Security Advisor. Mr. Flynn brings with him decades of law enforcement experience with the NYPD, Homeland Security and worldwide deployments with the U.S. Navy.
As a member of the Senior Executive Service at the Department of Homeland Security, Mr. Flynn developed several successful security programs in support of law enforcement and the private sector, including the Protective Security Advisor Program, Regional Resiliency Assessment Program, and the Office for Bombing Prevention's online Technical Resource for Incident Prevention (TRIPwire).
Mr. Flynn brings a vast amount of knowledge and experience identifying and analyzing the nation's highest risk assets; coordinating response to major all-hazard incidents; and developing counter-terrorism programs and strategies. He played a key leadership role as a member of the Homeland Security Intelligence Council, Counterterrorism Advisory Board, Counter IED Executive Steering Committee, Fusion Center Executive Steering Committee, co-chair of the International Critical Infrastructure Working Group and co-chair of the Special Events Working Group.
During his tenure with the Department of Homeland Security, he received numerous awards including the 2004 Secretary's Excellence Award, the 2008 National Protection and Programs Directorate Management award, the 2012 NPPD Outstanding Achievement Award, the 2012 Director of National Intelligence Meritorious Unit Citation, and the 2014 prestigious SES Presidential Meritorious Rank Award.
"Bill Flynn has led the effort to protect our Nation's infrastructure for the Department for over a decade. He has been in the forefront of assessing risk and the resources needed to mitigate that risk. There are few individuals in the country with more experience, insight, relationships and talent then Bill Flynn when it comes to protecting the critical infrastructure," said Michael Balboni.
About RedLand Strategies:
RedLand Strategies is a full-service consulting firm that sits at the intersection of Public Safety, Government Relations, Media Management and Business Development. Their knowledge, experience and connections get you the right meeting, with the right person for the right results. RedLand Strategies' mission is to use their vast corporate, governmental and strategic alliances to help you navigate both the public and private sectors of your industry.
Contact
RedLand Strategies
Stephanie Balboni
212.643.2002
www.RedLandStrategies.com

Contact