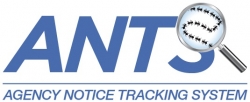 San Clemente, CA, March 24, 2015 --(
PR.com
)-- Agency Matters launches www.ants.tax, a website devoted to ANTS software Online.
Agency Matters is offering a 45 day free trial for ANTS Online software. ANTS is a comprehensive tax notice tracking software, with built in workflows, template letters, document management, robust reporting and much more. Now anyone can try ANTS and see how it has revolutionized tax notice management.
ANTS.tax launches ANTS Online, a SAAS system for tax departments. ANTS, Agency Notice Tracking System, helps tax departments manage, resolve and reduce the number of tax notices that they receive for their company or on behalf of their clients.
ANTS is designed for payroll providers, CPA's, banks, large companies and multi-national corporations.
Agency Matters is privately owned and does not have any outstanding debt. They do not have shareholders or investment fund pushing them to raise their prices or sell the company for a quick gain.
ANTS Online is offering a free 45 day trial, try ANTS today.
www.ants.tax