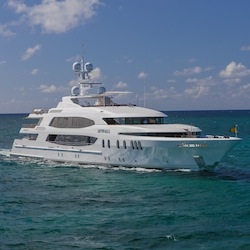 Palm Beach, FL, March 25, 2015 --(
PR.com
)-- The Palm Beach International Boat Show, now in its 30th year, will feature more than $1.2 billion worth of yachts and yachting accessories, located along the impressive West Palm Beach waterfront. Some of the top boats at the show will be exhibited at the stylish Worth Avenue Yachts stand, where private tours will be available to prospective buyers, yacht charter clients and the media.
The Eleven Luxury Yachts to be Exhibited by Worth Avenue Yachts are:
SKYFALL the majestic and powerful 190ft tri-deck Trinity megayacht, boasts timeless interiors by Patrick Knowles, 7 staterooms accommodating 17 guests, 12 entertaining areas, 2 gyms, massage bed and jacuzzi. She can also carry 14 crew, ensuring a highly relaxed and luxurious experience. SKYFALL's impressive leisure & entertainment facilities make her favorite of mega yacht charter lovers.
Benetti's exquisitely comfortable and sophisticated 120ft superyacht ROMANZA, promises an ultra smooth cruising experience for up to 10 guests who are sure to enjoy her 5 ample and luxurious staterooms.
Azimut's 116ft classic luxury motor yacht HAPPY HOUR has a highly sophisticated exterior and a high top speed of 34 knots, she sleeps 10 guests in 5 staterooms.
MONTIGNE the very spacious and gracious 187ft Aegean built sailing super yacht, sleeps up to 14 guests in 6 staterooms, a jacuzzi, baby grand piano and 65in plasma movie screen.
BREAD is a real head-turner and a firm family favorite. At 137ft this Kanter built custom motor yacht offers an incredible livaboard experience, she comfortably sleeps 8 guests in 4 staterooms.
PATTI BELLE both luxurious and comfortable is 90ft and was built by Ocean Alexander in 2012, she sleeps 8 guests in 4 staterooms.
The high speed and incredible detailing of ELIELLE, a 84ft McMullen & Wing luxury motor yacht, make her a popular cruiser choice. She sleeps 6 guests in 3 staterooms.
Frank Mulder's traditionally designed WILLY's WISH, a 73ft Neptunus beauty with accommodation for 6 guests in 3 staterooms.
The super sleek all white exterior of 103ft Maiora built motor yacht SASHAY, cuts a elegant profile at her top speed of 27 knots. She sleeps 6 guests in 3 luxurious staterooms.
SEA SIX 92ft, built by Riva Duchessa sleeps 8 guests in 4 staterooms, making her a firm choice for both couples and families.
The 75ft ODYSSEY by Hatteras, boasts sumptuous interiors, a jacuzzi tub and sleeps 8 guests in her 4 staterooms.
SKYFALL, MONTIGNE, ROMANZA and HAPPY HOUR are all available for purchase or charter and BREAD, SASHAY, SEA SIX, PATTI BELLE, ELIELLE, ODYSSEY and WILLY'S WISH are available for purchase.
These eleven yachts represent the wide selection that Worth Avenue Yachts has to offer their clientele. According to their Marketing Director, Danielle Giordano, the 2015 PBIBS will be one of the best yet and one of the yachting events of 2015, that yachting professionals, enthusiasts and novices alike definitely can't miss.
The Worth Avenue Yachts stand can be found at Ramp D, Slips D108-109 & D207-209. Photographs and further information about the yachts, and a contact form to book a private tour at the show can be found at:
www.worthavenueyachts.com/palm-beach-international-boat-show-2015
Worth Avenue Yachts offices are located in Palm Beach, Fort Lauderdale and Monaco.