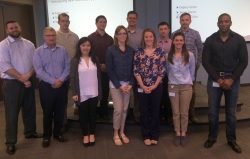 Alpharetta, GA, March 25, 2015 --(
PR.com
)--
Adcap Network Systems
, one of the top Cisco Gold Partners in the country, is excited to announce the addition of Matthew Merriman as their new Chief Operating Officer. Mr. Merriman brings over 25 years of operational experience in the Cisco partner community, including previous Vice Presidential roles at Prosys, Presidio and Solarcom.
"Matt's experience growing Cisco partners will further cement Adcap as the premier IT solution provider in the Southeast," said CEO Christine Versluis.
Matt is equally excited, proclaiming "Adcap is one of the fastest growing, most exciting partners in the United States and I am thrilled to be joining such a fantastic company. Adcap has been very successful with a wide variety of customers, and I look forward to assisting in improving an already established set of best practices."
In his new role as COO, Mr. Merriman will be responsible for management of Solution Architecture, Project Management, Engineering, Managed Services, and Systems and Solutions departments.
With this addition to the C-suite at Adcap, CTO Rolf Versluis will take a renewed focus on growing the portfolio of communications and network products. He explained, "To have a COO the caliber of Matt Merriman joining the Adcap family means an opportunity to spend more time improving current solutions, as well as developing new IT solutions for our customers."
About Adcap Network Systems
Adcap Network Systems (www.adcapnet.com) is a Cisco Gold Partner and IT Solution Provider based in Alpharetta, Georgia with locations throughout the southeast. Adcap was named 2013 Cisco 11 State South Area Partner of the Year and was named one of the 100 Fastest Growing companies in Atlanta by the Atlanta Business Chronicle in 2014. The Adcap team has many years of experience in planning, deploying, and supporting business technology solutions in the area of Unified Communications, Data Networking and Security, and Converged Computing Architecture.
Other Recent Awards Include:
• Top Workplace in Atlanta by Atlanta-Journal Constitution
• Inc 5000 Fastest Growing company in USA by Inc Magazine
• Atlanta's 101 Best and Brightest Companies to Work For!
• Cisco Architectural Excellence in Collaboration
• Atlanta's Top 12 Women-Owned Business by Atlanta Business Chronicle
For more information on Adcap Network Systems, contact Jenny Corcoran at jcorcoran@adcapnet.com
For information on joining Matt and jobs at Adcap, visit www.workingatadcap.com or email Bradford Wilkins at careers@adcapnet.com