Social Innovation Week Comes to Boston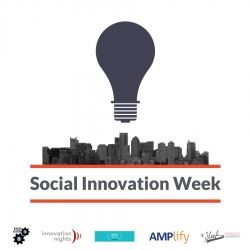 Boston, MA, March 26, 2015 --(
PR.com
)-- Today, a consortium of social media-oriented conferences and events are announcing the creation of Social Innovation Week in Boston (www.socialinnovationweek.com; #SocInno). The first Social Innovation Week will be held May 11 – 15, 2015 at various sites in and around the city of Boston. The collaboration brings together more than 100 speakers and 1,000 attendees with a focus on how social media can be used to achieve business goals. Social Innovation Week features major keynotes, talks, panel sessions, and networking receptions in a range of formats and venues.
The five partner conferences participating this year include the Social Tools Summit, AMPlify, Innovation Nights, MITX and Sleek Marketing University. Overviews, agendas, and location information for each conference can be found on the Social Innovation Week website (www.socialinnovationweek.com) and news, updates, and insights can be tracked using the hashtag #SocInno.
"There is so much happening in New England social media beyond just a few well-known brands," said Trender Research CEO Brian Mahony and "Maximize Your Social" author Neal Schaffer, co-founders of the Social Tools Summit. "It was time to bring this energy together in a coordinated effort so people can learn and experience the innovation that is happening in social media."
"This week will demonstrate just how much of a social innovation hub Boston is," said GaggleAMP President & Founder and Producer of AMPlify Glenn Gaudet. "The events, industry leading speakers, thought leading content, and diverse participants are provided an extraordinary platform to accelerate social innovation discussions and connections."
Conference attendees will have access to a full agenda packed with great learning and networking with top social media gurus and professional peers from around the world. The combined conferences will bring to town the top authors and experts in the field of social media and digital marketing, host various networking receptions around the city, and announce several awards such as the "Social Genius" trophy and "Social Media Best of Show."
For more information about Social Innovation Week, please visit the web site or contact one of the spokespeople below:
· Bobbie Carlton, President of Carlton PR & Marketing (organizer of Mass Innovation Nights): Bobbie@carltonprmarketing.com
· Glenn Gaudet, President & Founder of GaggleAMP Inc. (producer of AMPlify): glenn@gaggleamp.com, 888.677.4528 ext. 700
· Brian Mahony, CEO of Trender Research and Co-Founder of Social Tools Summit: bmahony@SocialToolsSummit.com, 508-479-7254
Contact
Social Tools Summit
Brian Mahony
508-479-7254
http://www.socialinnovationweek.com/
Bobbie Carlton, President of Carlton PR & Marketing (organizer of Mass Innovation Nights): Bobbie@carltonprmarketing.com
Glenn Gaudet, President & Founder of GaggleAMP Inc. (producer of AMPlify): glenn@gaggleamp.com, 888.677.4528 ext. 700
Brian Maho

Contact