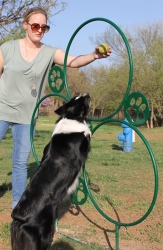 Edmond, OK, April 07, 2015 --(
PR.com
)-- Noah's Park & Playgrounds adds agility, strength and obedience to the, already entertaining, Bickham-Rudkin Edmond Dog Park with the addition of a BarkPark™ Intermediate Dog Park Agility Course.
Bickham-Rudkin Dog Park of Edmond, located at E. 33rd and Rankin Terrace, was commissioned in 2006. The popular dog park has a vast 49-acres, and is complete with a playground, trails for runners, walkers, and bicyclist, and of course, the Edmond Dog Park. Utilizing 5 acres inside the Edmond Dog Park is a lovely, fenced-in area just for your four-legged companions. The Bickham-Rudkin Dog Park is a wonderful place to bring your pet for some off-leash fun and exercise. The park, complete with benches, shade trees and lake access for dogs to swim, also features two separate areas, one for larger dogs 30 pounds and up, as well as an area for smaller dogs.
Earlier in March, Noah's Park & Playgrounds added to the larger dog area when they installed a brand new BarkPark™ Intermediate Dog Agility Course located in the southeast section of the park.
BarkPark™ Dog Park Equipment was developed to benefit the health and well-being of dogs, and increase the variety of recreation in parks across the country. BarkPark™ components allow each community to customize their dog park courses to meet their own community needs.
The Intermediate Dog Park Agility course includes the Rover Jump Over, the Doggie Crawl, the Paws Table, the Hoop Jump, King of the Hill, and Stepping Paws. Each piece is made with UV-stabilizing metals and plastics, some of the thickest in the industry, insuring the highest level of structural integrity, along with stainless-steel hardware to prevent corrosion and resist vandalism.
A fairly new Edmond resident, Hunter Dillard, moved to the Edmond area in 2012, and is an avid fan of the Edmond Dog Park.
"My wife and I love the physical exercise the agility equipment allows Pepper. We also love the mental training that it takes to get our pup to try a new piece of equipment," says Dillard about his Mini Australian Shepherd, Pepper. "Our favorite piece is the Hoop Jump. Pepper had an easy time jumping through the lower two rings, but we were amazed when she easily mastered the top ring. We will definitely be back to let her show off her new jumping skills."
Noah's Park & Playgrounds, a 14-year, Edmond owned company, was excited to install the new equipment for the popular Bickham-Rudkin Dog Park.
Company owner, and Edmond native, Shan Shepherd stated, "We are always happy to see our community grow, and we love to help create new memories for all families, and now all the dog owners in Edmond through the addition of this new equipment."
Since 2001, Noah's Park & Playgrounds has provided commercial-grade park and playground equipment, on a national level, to housing communities, schools, churches, daycare facilities, special-need centers, non-profit organizations, city parks, developers, and many more. Noah's Park & Playgrounds provides a vast selection of items from early childhood playgrounds, indoor playgrounds, ADA accessible play pieces, outdoor fitness equipment, sports equipment, and park amenities such as tables, benches, trash cans, bleaches, and shades. Noah's Park & Playgrounds specializes in design and bid consultation, commercial playground installation services and custom playground design services.
For more information about the BarkPark™ Dog Park Agility Course installed at the Edmond Dog Park, go to our website at www.noahsplay.com/ playground-equipment-needs/developer/intermediate-barkpark-kit/.
For more information about Noah's Park and Playground's products and services, please call (877) 248-5444, email us at info@noahsplay.com or visit our website at www.noahsplay.com.