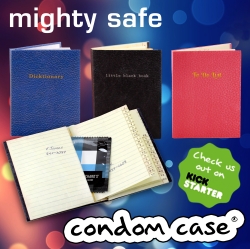 Brooklyn, NY, April 15, 2015 --(
PR.com
)-- Let's face it, most of us wouldn't be caught dead carrying condoms and according to Dynomighty that's exactly the problem. Dynomighty, makers of the Mighty Wallet®, are trying to break down unhealthy taboos with their latest invention on Kickstarter the
Mighty Safe Condom Case™
.
"Why can't carrying condoms be as common as wearing headphones?" asks the inquisitive Terrence Kelleman, founder of Dynomighty. Tackling the taboo of carrying condoms with lighthearted designs, Terrence has launched a Kickstarter campaign to raise awareness and funding for the new Tyvek® Wallet condom case.
Americans spend billions each year on anti bacterial cleaners, and health and hygiene products, so why should our sexual health be considered any less important? Dynomighty argues that old out-dated taboos are preventing people from protecting themselves.
"The best way to change people's stigma about condoms is through humor and education," says Terrence. The Mighty Safe Condom Case is a modern day accessory for safe sex. The condom case's design is discreet and looks like a small notebook, but is extremely durable.
With humorous title's like "To Do List", "Dicktionary" and "Little Black Book", Dynomighty creates a ice breaker to those uncomfortable moments that helps facilitate conversations about safe sex and buffer any embarrassing chance discoveries.
The dangers of not using a condom is well documented but less known is the unsafe ways to carry condoms before use. Storing condoms in your wallet, bag or purse can lead to malfunctions. The Mighty Safe Condom Case safely protects your condoms while offering a level of discretion and humor that can buffer any embarrassing moments.
The Mighty Safe Condom Case protects two standard condoms with layers of PVC and also doubles as a wallet that can hold a few credit cards, cash and ID. Made of Tyvek® the product is Eco-friendly, Vegan and Peta approved.
Designers against AIDS
understands the importance of breaking down these barriers and has done great work to prevent the spread of AIDS. Support is also coming from condom maker, Sir Richards Condom Company and NYC Health, who is providing condoms to backers of the project.
Terrence Kelleman plans on releasing many more designs, if successful on Kickstarter, in his goal "to make it; cool, easy, convenient, friendly and fun and something else [...] sexy, yeah definitely sexy, to carry condoms around."