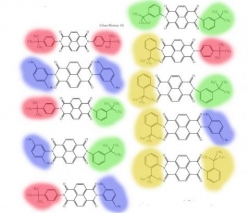 Rochester, NY, April 17, 2015 --(
PR.com
)-- Molecular Glasses, a division of Molaire Consulting LLC, has filed for patent protection for its non-crystallizable pi-conjugated molecular glass mixtures for OLED and other organic electronic devices and photonics applications.
The filing converts prior provisional applications into full U.S. and PCT patent filings. The new patent filings cover the preparation of ISOmeric™ molecular glass mixture compositions. The components of isomeric molecular glass mixtures have similar vapor pressure and can be coated by the traditional thermal evaporation process without material fractionation. But these molecular glass mixtures are also non-crystallizable, very soluble in organic solvents, including green solvents. Thus they can be coated by solution processes, such as inkjet printing, slot die, spin coating, gravure and other coating techniques.
"We are the bridge to the future," notes Mike Molaire, CEO and Founder of Molecular Glasses. "Our OLED materials are compatible across all market verticals and manufacturing processes. Thermal process today. Solution process tomorrow. With one set of materials. Ours."
"There are two recognized classes of OLED materials today: 'Small Molecule OLED' and 'Polymer OLED.' We have invented a third class: 'NONcrystallizable™ OLED' capable of providing all the advantages of the others and more."
"NONcrystallizable™ means efficient OLED. Long-lived OLED. Affordable OLED.
ISOmeric™ means Process-Blind."
About Molecular Glasses
Molecular Glasses, a division of Molaire Consulting LLC, focuses on proprietary NONcrystallizable™ molecular glasses for stable and long-lived OLED and other organics electronics. We are developing NONcrystallizable™ hole-transporting, electron-transporting, ambipolar, fluorescent, phosphorescent, water soluble, crosslinkable, and solvent-coatable, vacuum-coatable molecular glass mixtures.
Our mission is to provide NONcrystallizable™ molecular glasses to OLED and organic electronics manufacturers for their use in commercializing stable and long-lived displays, lighting products, organic solar cells and thin film transistors. Our primary business strategy is technology licensing. We also offer R&D contracting services to our clients. We have the ability to take our clients favorite material sets and convert them to non-crystallizable and soluble materials without affecting their original photo physical properties.
www.molecularglasses.com
Molecular Glasses™, NONcrystallizable™, Molaicular™, Molaicular Inside™, ISOmeric™ are trademarks of Molaire Consulting LLC.