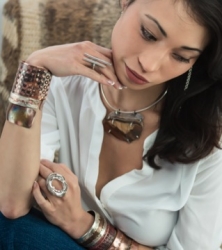 Delray Beach, FL, April 21, 2015 --(
PR.com
)-- On Friday May 1st at 6pm art, fashion, and music will collide in the tropical oasis of Crane's Beach House Boutique Hotel & Luxury Villas. But is it really a collision? "No" says Cathy Balestriere, General Manager of the hotel. "It is a well-crafted event designed to introduce South Florida to a group of small businesses and artists while helping a wonderful cause." The event is jam packed with wonderful activities, music and food under the tropical skies, tiki-hut, warm breeze and music of the Caribbean.
Guests will be introduced to various expressions of art: lolahSoul wearable art Jewelry, artisanal gourmet iced tea by Stacy Stern Tea, Start to Paint, the new luxury villas at Crane's and the GBDC Entrepreneurship Institute; the beneficiary of part of the night's proceeds. For one night, only this collaboration provides guests the opportunity to experience, purchase and create art for a great cause. It is an extraordinary opportunity for the guests to purchase a gift for Mother's Day says Annette Gray, Executive Director of GBDCI. She continued, "A gift for your mom means a gift to the future entrepreneurs of the community."
lolahSoul Jewelry Owner and Metalsmith, Kamysha Martin, creates uniquely modern and sophisticated designs simply inspired by the metal itself. With a passion for all things simple, bold and timeless, Kamysha transforms ideas into innovative, distinctive, wearable art. Each original piece is crafted by hand, making each and every piece truly unique - just like the wearer. The event will be a perfect time to be fearless and take home a unique piece of wearable art.
Tracy Stern Tea & CO. is an artisanal gourmet iced tea collection, tastefully crafted with unique flavors & designer notes by certified Tea Master & NY Society Hostess, Tracy Stern. South Florida local, Celeste Miller purchased Tea & CO. just in time to launch the product for the New Year. With a NY Public Relations and luxury sales background, she looks forward to saturating the states one tea tin at a time. Join us and find out why this is not the tea of the past. A night under the Caribbean moon is the perfect backdrop for tea demonstrations and sampling.
Start to Paint offers step-by-step instructions in replicating the featured painting of the evening. We offer the most creative night on the town, accompanied by great music while sipping a beverage of choice. Whether guests consider themselves as artists or have no artistic ability whatsoever, instructors will guide each guest in creating a unique painting! Start to Paint invite guests to RSVP early because space is limited. The cost is $15, a free glass of wine is included.
The Luxury Villas at Crane's offer an exceptional level of personal guest service & upscale comfort. Find your tropical solitude in their new expansive villas, featuring a private patio or balcony, handcrafted furnishings and artisan materials. Elegantly appointed by award winning Design Director, Carrie L. Bollella, ensures every villa reflects the highest level of style, comfort and functionality. Complimentary wireless Internet access keeps you connected and the 65 inch flat-screen Smart TV and DVD player provide endless entertainment with complimentary Netflix access. In addition to a long list of amenities The Villas at Crane's are the first in the State to carry a WELL Certified Mattress. It's time to discover a restful and rejuvenating sleep on a Signature Essentia Mattress. Escape from Ordinary be sure to stop by for a guided tour!
GBDC Entrepreneurship Institute is a nonprofit 501 c (3) organization that strives to create Social Entrepreneurs of all ages through cultural, artistic and professional development. GBDCEI Mission is the development of social entrepreneurs through training, business coaching and technical assistance. Emphasis is placed on young entrepreneurs; to aid in the reduction of school dropout rates and the increase in employability skills and job creation. "The GBDCI team has developed programs such as the Kid-preneur Camp and the Cultural Youth Entrepreneurship & OJT Training program to encourage the entrepreneurial spirit in children as young as nine years old. GBDCEI recognize that the global market place now demands a new set of skills and we are determined to prepare the younger generation by teaching them the values of leadership and entrepreneurship," said Hubert Macintosh the institute's Chairman of the Board.
The night comes packed with fun. Guests can purchase their one of a kind lolahSoul Jewelry, sample and purchase artisanal gourmet iced tea, create their own keepsake work of art, take a tour of the newly designed luxury villas and support a great cause.
The evening kicks off at 6:00 pm. "RSVP is required" no later than April 28, 2015 to
info@gbdcei.com
or 561-894-4510.