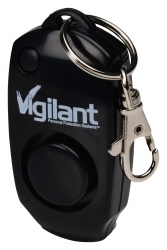 Minneapolis, MN, April 28, 2015 --(
PR.com
)-- Vigilant Personal Protection Systems is launching an initiative to make personal protection alarms available in college bookstores nationwide.
One in four college women report surviving rape or attempted rape at some point in their lifetime. These are anonymous reports on multi-campus surveys sampling thousands of college students nationwide (Fisher, Cullen & Turner, 2000; Tjaden & Thoennes, 2006). This rate has remained the same since studies in the 1980s (Koss, Gidycz, & Wisniewki, 1987).
Personal alarms are one of the fastest growing segments at retail in the self defense industry, because an attacker's worst enemy is attention. Personal alarms are legal to carry in all 50 states (even on airplanes) and are a very safe method of self defense. They require no training or skill to operate, and can be used by anyone regardless of age or physical ability. Victims are often too traumatized to shout for help in unfamiliar and dangerous situations, increasing their vulnerability. Criminals do not like to draw attention, and will likely run off when they realize the alarm cannot be stopped.
For additional information, please visit www.vigilantpps.com.