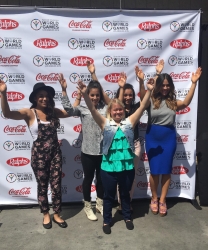 Los Angeles, CA, May 07, 2015 --(
PR.com
)-- This spring and summer, Hollywood stars and world-renowned athletes are coming together in continued effort to increase awareness of the Special Olympics World Games, being held over nine days in Los Angeles (July 25-August 2). Last Wednesday, a celebratory and interactive donation kick-off event officially launched a new fundraising program at local Southern California Ralphs and Food 4 Less grocery stores, where shoppers are encouraged to support the World Games by donating their spare change in specially marked canisters at checkout. At the event, celebrities and gold-medal winning Olympians joined Special Olympics Messengers and Athletes in "surprise guest grocery bagging" for Ralphs customers who participated in the donation program, which resulted in a variety of memorable and heart-warming media shots.
Olympic athletes who attended included Greg Louganis, Gold-Medal Diver, and Meryl Davis, Gold-Medal Ice Dancer and winner of "Dancing With the Stars," Season 18.
In addition to some of the world's greatest Olympians, the kick-off event was also attended by Lauren Potter, best known for her role as "Becky" on "Glee." Lauren is also a Special Olympics World Games Celebrity Ambassador. Lauren gave a moving speech about the importance of being kind to those who are different than you and never giving up on your dreams.
The cast of Hulu's top teen drama series, East Los High, including Alicia Sixtos, Janine Larina, Danielle Vega and Tracy Perez, came out to support the cause as well. All celebrities and Olympians entered the Ralphs grocery store in Hancock Park to surprise customers at checkout where they met and greeted the customers and played the role of "celebrity grocery baggers and greeters."
Perhaps the most honored guests of the event were 2015 Special Olympic World Games Global Messengers & Athletes including Dustin Plunkett and Marco Martinez, who showed support of the spirit of inclusion embodied by the Special Olympic World Games.
Executives from the Special Olympics World Games, Ralphs and long-time Olympic sponsor and Special Olympics Founding Sponsor Coca-Cola were also in attendance at the event to introduce the charitable campaign and why it is important to donate to the Games on a local level, as well as national.
Memorable colorful moments throughout the event included:
- Lauren Potter who plays "Becky" on Glee gives an emotional and powerful speech about following your dreams and never giving up despite feeling "different"
- Eddie Mack, a Ralphs employee who is also a Special Olympic Southern California athlete, celebrates his birthday with some of his Olympic heroes Greg Louganis and Meryl Davis
- The cast of East Los High tells Meryl how inspiring she was to them when she won gold at the Sochi Olympics
- Greg Louganis, the cast of East Los High and a representative from the Special Olympics World Games taking a picture with the World Games "Circle of Inclusion."
Social Hashtags and Handles: #ReachUpLA @LA2015 @RalphsGrocery @CocaCola
Watch the exclusive video of the celebration
here
.