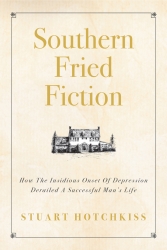 Boise, ID, May 13, 2015 --(
PR.com
)-- Stuart Hotchkiss, a former publishing executive at Time Inc., has published a memoir titled, "Southern Fried Fiction: How The Insidious Onset Of Depression Derailed A Successful Man's Life."
"Southern Fried Fiction" was published in paperback in the US and worldwide by CreateSpace Independent Publishing Platform on May 2, 2015, and is currently available on
Amazon.com
(304 pages, $19.95). An eBook format will be available from Amazon Kindle on May 14, 2015.
Hotchkiss began writing his memoir in 2010 after a series of romantic and financial disasters left him wanting to end his life with a bullet. Encouraged by a former publishing colleague—now a New City public school teacher—to tell his story, Hotchkiss went through the laborious process of exploring his roller-coaster life, including the highs of his meteoric rise at Time Inc. as well as the lows of his unemployment, divorces and bankruptcy.
"Southern Fried Fiction" is all that a memoir should be—a captivating story, real and raw, with a healthy dose of humor to carry readers through the pain of its author's loss and past mistakes. Through it, Hotchkiss eloquently exorcises the demons of his climb toward success, capping it off with a spark of hope beyond the veil of his near suicide, one that even the most cynical of us can find inspiration in.
Stuart Hotchkiss is a former publishing chief who served as the executive creative director of Time Inc. and the president of Time Home Entertainment Inc. He is also a past president of the Direct Marketing Association of Washington.
A native of Richmond, Virginia, Hotchkiss now lives in Boise, Idaho, where he serves as vice president of the Episcopal Diocese of Idaho's executive council.