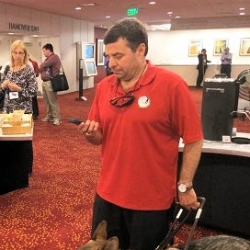 Atlanta, GA, May 21, 2015 --(
PR.com
)-- For four days, Bill DeMaio could see through walls. And that's really saying something, considering that he has no eyesight. Until May 10, 2015, Bill could find his way around an unfamiliar building only by either asking people for directions or hoping to find Braille signs. But then, on the first day of the 2015 National ADA Symposium, he was given an extraordinary gift of sight.
Bill was the first person to use a new wayfinding application called LowViz Guide, created specifically for visually impaired attendees at state and national conferences. On the first day of the event, he stood with his guide dog, Izaac, in the middle of the Hyatt Regency Atlanta hotel's pre-conference area. Neither of them had ever set foot or paw in that room before, but after simply listening to his iPhone for a minute or so, Bill was amazed that he could describe and give directions to meeting rooms, restrooms, vendor booths, and other unique points of interest in the entire conference area, even those that were beyond normal sight.
Once he realized that he was now on equal or better par with the fully-sighted attendees, he decided to sign in. Turning toward the registration table 50 feet away and around the corner, he guided Izaac to the exact location. That's right, Bill guided Izaac, whose look of canine bewilderment was matched only by the big smile on his owner's face.
LowViz Guide is the latest embodiment of Bluetooth Low Energy (BLE) beacon technology, popping up in public venues all over the world. It is similar to GPS, but it is useable indoors, where access to satellites, Internet, and cell service may not be available. With a smart phone or tablet, the user can call up a map and routing information on the screen, no matter where he or she is standing in the venue. And now, in combination with the phone's speech capability, that information is also available audibly for blind and low vision people.
In July of 2014, Liz Trauernicht, director of
MD Foundation
, saw the need for a guided assistance program at low vision conferences, so she asked her resource consultant, Dan Roberts, if he could research the possibilities. Along with his duties as founding director of MD Support and Editor-in-Chief of Prevent Blindness' Living Well With Low Vision section, Roberts accepted the challenge. He decided that BLE technology was the answer, so he contracted Indoo.rs, a wayfinding technology company based in Vienna, to design the LowViz Guide app to his specifications.
After months of development, the product was launched to rave reviews at the Atlanta conference. And, with ongoing funding from MD Foundation, MD Support is providing it free-of-charge to five more conventions through October. Future participating organizations are American Council of the Blind, Association for Blinded Veterans, Guide Dogs For The Blind, California Council of the Blind, and Pennsylvania Council of the Blind. For information about LowViz Guide and how to request it for events, visit
www.mdsupport.org/audioguide
.