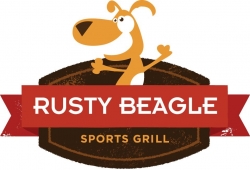 Dallas, TX, May 22, 2015 --(
PR.com
)-- Nancy Matter Motorsports welcomes the Rusty Beagle Sports Grill as their new associate partnership on the Chris Kyle - Guardian for Heroes / NTX Diesel Monte Carlo Top Alcohol Funny Car for the remainder of the 2015 racing season.
"Rusty Carlock was the Founder of 'The Beagle' as we call it," states Matter, "Rusty unexpectedly passed from Cancer on March 27, 2015 leaving the business to operate under the careful guidance of his son, Charlie."
After attending a Spirit of a Hero Event, honoring Sgt. Omar Milan, Matter and approximately thirty of the Combat Veteran attendees went to The Beagle to eat dinner where Charlie Carlock introduced himself to the group.
"Charlie and I had a pretty in depth conversation about his Dad, his future plans, our newly formed business Texas Dyno Works, different fund raising ideas and of course, our Chris Kyle - Guardian For Heroes Funny Car," said Matter. "The next time we went to The Beagle, Charlie asked me about putting The Beagle on the Car and here we are."
Matter's team is incredibly grateful to Charlie and The Beagle Staff. They already have different events in planning stage to not only produce a return of investment for The Beagle and introducing many of their patrons to our world of Drag Racing, but also events with Texas Dyno Works to raise money for the Chris Kyle -Guardians For Heroes Foundations' in hopes of continuing to build awareness towards our countries crisis where 22 American soldiers are committing suicide per day which includes 7 enlisted soldiers per week.
If you know a Combat Veteran who is struggling with the challenges of returning to post military life and or would like to help these foundations help those who have served us, please log on to:
www.GuardianforHeroesFoundation.org
or
www.ChrisKyleMemorialBenefit.com
For more information regarding Rusty Beagle Sports Grill, please log on to:
www.RustyBeagle.com