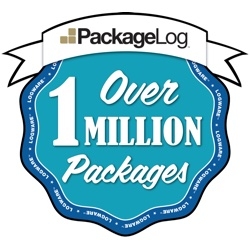 Orlando, FL, May 27, 2015 --(
PR.com
)-- Logware™ announces that over 1 million packages have been logged and delivered by their inbound package management software, PackageLog™. According to their data, this equated to over 4 million unique customized notifications sent out to recipients. Additionally, PackageLog™ is proving to actually be a timesaver, with over 80,000 hours of staff time saved for those who implemented PackageLog™ versus logging packages manually. Sarah Helberg, a Property Manager with WestPac in California commented that, "The packages take a fraction of the time now which leaves us more time to dedicate to more important tasks."
With the rise of SMS (text-messaging) as a primary medium for communication and the highly competitive nature of email within an inbox, clients are using PackageLog™ as a tool for customer engagement unlike they've seen in the past. Each of their notifications includes a personal message about the recipients' packages, with an additional note from the client, allowing for passive engagement with each alert. Rob Myers, a Senior Property Manager with Asset Campus in Florida took full advantage of this software then tweeted to his followers, "PackageLog is crazy effective! We just sent out renewal notices via package notice (it has a text all feature too) and got 48 renewals!" Just do the math on that transaction.
An NMHC apartment industry study from 2014 shows that apartments can only process about 10 packages per hour, when factoring for receipt, notification, inquiries, and final delivery. With PackageLog™, they can process almost 60 packages per hour saving thousands of hours per client each year, representing a colossal 80% efficiency gain. Sheila McDowell, a Community Manager with Greystar in Texas writes, "...e-mail notifications going out with each package received has decreased the number of days that the packages sit in our office and the ease of use for us and the residents is outstanding."
The use of technology and customer engagement is critical when considering the speed of business and consumer expectations in today's competitive economic environment. PackageLog™ is a prime example of technology that addresses a non-revenue generating expense pain-point, providing both efficiency within the office with which it is utilized and increases engagement opportunities with customers.
"We are excited for the ongoing continued successes Logware has achieved in this vertical, now having surpassed one million packages and 125,000 active users milestones," states Craig Meddin, CEO and President of Logware.
About Logware:
Logware™, a Postal Solutions company, develops efficiency Software-as-a-Service (SaaS) products to make life easy for its users. Logware™ products all integrate with several property management software systems in the U.S., including Yardi Voyager®. PackageLog™, its flagship application, is a package management tool that leverages package notifications for customer engagement. It's everything about packages… Just 80% faster!