US Navy Veterans with Mesothelioma Who Were Exposed to Asbestos by a Reactor Are Urged to Call The Mesothelioma Victims Center for Facts About Compensation and Lawyers
The Mesothelioma Victims Center is urging diagnosed victims of mesothelioma who were exposed to asbestos while they served in the US Navy to call them to speak with the nation's most experienced compensation lawyers, especially if the Veteran worked around a reactor, or in a ship's engine room.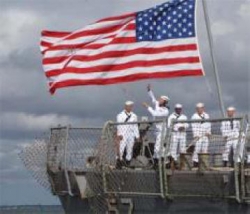 Washington, DC, June 08, 2015 --(
PR.com
)-- The Mesothelioma Victims Center says, "When someone mentions 'US Navy ships with nuclear power' most people will think of aircraft carriers, but in reality that is just the tip of the iceberg. The navy's entire submarine force is nuclear powered, as were some former US Navy cruisers. In the addition there are US Navy research reactors in places like Idaho, or Pennsylvania.
"If a US Navy Veteran was exposed to asbestos because of their position on a ship, (e.g. maintaining the reactor, or in a ship's engine room) and have been recently diagnosed with mesothelioma, the center is urging the Veteran or their family members to call 866-714-6466 at anytime for instant access to the nation's best mesothelioma lawyers who specialize in getting their clients the best compensation on a consistent basis."
In addition, the Center is offering to work with the Veteran and/or their family members in going over the how and where to get the best treatment for mesothelioma. The Center is also offering to create a customized-treatment-option's report for all diagnosed victims of mesothelioma, because in most instances the they fear the person with this rare cancer does not have access to the nation's best treatment options or facilities that are renowned for treating mesothelioma.
http://MesotheliomaVictimsCenter.Com
It was common practice from the 1960s up until the early 1980s for US Navy aircraft carriers, submarines, some cruisers, or navy research facilities to use asbestos. This is because it was effective as a fire protective insulator, and extremely abundant. The problem with using this material is that US Navy Veterans and civilian workers who were exposed to asbestos on a day-in, day-out basis now have a higher risk of developing mesothelioma. Mesothelioma is a rare form of cancer caused by asbestos exposure.
Important tip for US Navy Veterans who have been diagnosed with mesothelioma because of asbestos exposure on a Navy ship, shipyard, or Navy research facility:
If a diagnosed victim of mesothelioma wants the best possible compensation for this rare form of cancer, especially if they are US Navy Veteran, please call the Mesothelioma Victims Center at 866-714-6466 for the names of the nation's top mesothelioma lawyers who specialize in compensation claims for these types of individuals. "Skill and experience matter when it comes to diagnosed victims of mesothelioma," as the center would like to explain.
For more information about nuclear powered navy ships please refer to the World Nuclear Association's website on this topic:
http://www.world-nuclear.org/info/non-power-nuclear-applications/transport/nuclear-powered-ships/
Information About Mesothelioma For Diagnosed Victims And Their Families From The Mesothelioma Victims Center:
High risk work groups for exposure to asbestos include US Navy Veterans, power plant workers, shipyard workers, oil refinery workers, steel mill workers, miners, manufacturing workers, plumbers, electricians, auto mechanics, machinists, or construction workers. Typically the exposure to asbestos occurred in the 1950's, 1960's, 1970's, or 1980's.
http://MesotheliomaVictimsCenter.com
According to the US Center for Disease Control, the average age for a diagnosed victim of mesothelioma is 72 years old. Frequently victims of mesothelioma are initially misdiagnosed with pneumonia. This year between 2500, and 3000 US citizens will be diagnosed with mesothelioma. Mesothelioma is attributable to exposure to asbestos.
According to the CDC the states indicated with the highest incidence of mesothelioma include Maine, Massachusetts, Connecticut, Maryland, New Jersey, Pennsylvania, Ohio, West Virginia, Virginia, Michigan, Illinois, Minnesota, Louisiana, Washington, and Oregon. However, based on the calls the Mesothelioma Victims Center receives a diagnosed victim of mesothelioma could live in any state including New York, Florida, California, Texas, Illinois, Ohio, Iowa, Indiana, Missouri, North Carolina, Kentucky, Tennessee, Georgia, Alabama, Oklahoma, Arkansas, Kansas, Nebraska, North Dakota, Wyoming, Colorado, New Mexico, Utah, Nevada, Arizona, Idaho, or Alaska.
The Mesothelioma Victims Center says, "Before you hire a mesothelioma attorney please call us at 866-714-6466, and compare the qualifications of who we consider to be the nation's most skilled mesothelioma attorneys to any other lawyer, or law firm. When it comes to obtaining the best mesothelioma compensation settlement, the quality of the attorney matters, as we would like to explain anytime."
http://MesotheliomaVictimsCenter.com
For more information about mesothelioma please refer to the National Institutes of Health's web site related to this rare form of cancer:
http://www.nlm.nih.gov/medlineplus/mesothelioma.html
Contact
Mesothelioma Victims Center
M Thomas Martin
866-714-6466
MesotheliomaVictimsCenter.Com

Contact