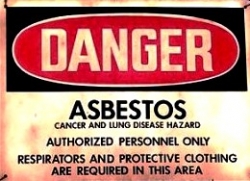 Washington, DC, June 19, 2015 --(
PR.com
)-- The Mesothelioma Victims Center says, "It's easier to find construction products from the 1950's, 1960's, or 1970's that used asbestos as a material than it is to find commonly used construction products that didn't. Why are we so concerned about this?
"Answer: Construction workers and installers who put these products into a home or building probably received medium-, to heavy-exposure to asbestos in the process of a product installation or building renovation. If you know someone who has recently been diagnosed with mesothelioma, we are urging you to tell them about us at 866-714-6466 so we can explain how incredibly vital it is for people in this situation to have the nation's top mesothelioma lawyers advancing their compensation claim.
"As an example, most homes and commercial buildings built in the US in the 1950's, 1960's, or 1970's used insulation that contained asbestos. The drywall probably contained asbestos, the vinyl flooring, the vinyl flooring glue, the pipes, roof shingles, or furnace all probably contained asbestos. We say probably because of the incredibly high usage of materials during this time that used asbestos."
The Mesothelioma Victims Center is urging all diagnosed victims of mesothelioma, who were exposed to asbestos at a construction workplace, to call them at 866-714-6466 for a brief conversation about how important it is to hire one of the nation's best mesothelioma lawyers. If the victim or their family members choose poorly on the lawyer or law firm, they could be stuck with a substandard compensation result.
http://MesotheliomaVictimsCenter.com
For attribution about products that contained asbestos please refer to the EPA website that discusses this matter:
http://www2.epa.gov/asbestos/us-federal-bans-asbestos
High risk work groups for exposure to asbestos include Veterans of the US Navy, power plant workers, shipyard workers, oil refinery workers, steel mill workers, miners, factory workers, plumbers, electricians, auto mechanics, machinists, and construction workers. Typically the exposure to asbestos occurred in the 1950's, 1960's, 1970's, or 1980's.
According to the CDC, the average age for a diagnosed victim of mesothelioma is 72 years old. This year, between 2500, and 3000 US citizens will be diagnosed with mesothelioma. Mesothelioma is a rare form of cancer that is attributable to exposure to asbestos.
The Mesothelioma Victims Center says, "If you call us at 866-714-6466, we will see to it that you have instant access to the nation's most skilled mesothelioma attorneys, who consistently get the best possible financial compensation results for their clients."
http://MesotheliomaVictimsCenter.com
According to the CDC, the states indicated with the highest incidence of mesothelioma include Maine, Massachusetts, Connecticut, Maryland, New Jersey, Pennsylvania, Ohio, West Virginia, Virginia, Michigan, Illinois, Minnesota, Louisiana, Washington, and Oregon. However, based on the calls the Mesothelioma Victims Center receives a diagnosed victim of mesothelioma could live in any state including New York, Florida, California, Texas, Illinois, Ohio, Iowa, Indiana, Missouri, North Carolina, Kentucky, Tennessee, Georgia, Alabama, Oklahoma, Arkansas, Kansas, Nebraska, North Dakota, Wyoming, Nevada, Colorado, New Mexico, Utah, Arizona, Idaho, or Alaska.
For more information about mesothelioma, please refer to the National Institutes of Health's web site related to this rare form of cancer:
http://www.nlm.nih.gov/medlineplus/mesothelioma.html