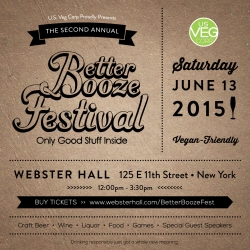 New York, NY, May 29, 2015 --(
PR.com
)-- The Better Booze Festival is splashing down at Webster Hall located in New York City's East Village on Saturday, June 13, 2015 from noon-3:30 p.m. This year's festival is co-presented by U.S. Veg Corp, the company behind groundbreaking events such as the NYC Vegetarian Food Festival, and Webster Hall, one of North America's most prestigious and historic entertainment venues. This landmark venue routinely hosts the most celebrated events in the world since its construction in 1886, including the Better Booze Festival. This unique alcohol festival is the brainchild of the founders of U.S. Veg Corp who have a successful history of producing innovative events that are in tune with the current trends. The first Better Booze Festival was no exception and the second incarnation is expected to top the first!
New York City-area consumers, tastemakers and trendsetters eager to indulge their individual epicurean appetites will enjoy tastings from a specially curated variety of brewery, winery, and liquor company brands, a selection of delectable food vendors, as well as speakers, activities and live entertainment, including magicians Eric Walton and Kid Ace, and fire dancer Rachel Jessee, in Webster Hall's famous Grand Ballroom. All food and libations served qualify as vegan but this festival is not just for vegans. The Better Booze Festival caters to the "Conscientious Drinker."
"This festival is aimed to raise people's awareness that not all alcohol is created equal. If the FDA required all ingredients to be listed on alcoholic beverages most people would be shocked and not in a good way," proclaims co-organizer Nira Paliwoda. Both non-vegan and vegan consumers are learning about (and rejecting) the animal additives in their beverages, and are thirsty for cruelty-free beer, wine, and liquor. Conscientious consumers want to make informed decisions about what they are putting in their bodies. The brands showcased at the Better Booze Festival are not only better in quality and in taste, but are also better for the planet and its' inhabitants (human and animal alike). "Sometimes vegetarians are more focused on the food on their plates than the drinks in their glasses," said co-organizer Sarah Gross. "They don't realize that dairy elements might be swirling around down there." She added that during the filtering phase, distillers might use fish bladders, gelatin, and egg whites, among other vegetarian taboos. Consumers normally have to do some digging to determine if their drinks are in fact animal-free. But at the Better Booze Festival, that legwork has already been done.
Continuing with the event's socially conscious theme, 10% of the ticket proceeds from this year's Festival will benefit charity: water, a non-profit organization bringing clean and safe drinking water to people in developing nations. 100% of the proceeds given to charity: water will directly fund clean water solutions.
For more information on the Better Booze Festival, go to: http://www.usvegcorp.com/2015-better-booze-festival/
Admission is $45. Ages 21+. For tickets, go to:
http://www.websterhall.com/BetterBoozeFest
Better Booze Festival
June 13, 2015
12pm-3:30pm
Webster Hall
125 E. 11th Street
New York, NY 10003