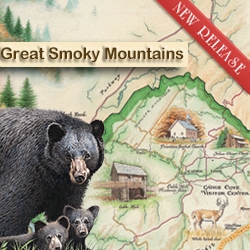 Missoula, MT, May 28, 2015 --(
PR.com
)-- Xplorer Maps, founded in Missoula, MT in 2010, has released their most recent hand-drawn, hand-lettered fine art map; "Great Smoky Mountains National Park."
In collaboration with the Great Smoky Mountains Assocation (GSMA), Xplorer Maps and wildlife artist Chris Robitaille have created this incredibly unique artistic creation highlighting the fauna, flora, unique geology, iconic landscapes and historic structures of the Great Smoky Mountains.
This collaborative piece has been officially approved by the National Park Service and GSMA for ensuring historical and geographic accuracy, educational merit, interpretive engagement, biological diversity and cultural relevance. Every line, letter and icon in this illustration is custom and entirely rendered by hand; absolutely unique and original. With uncompromising attention to detail, exquisite world-class artistry and accurate historical reflection, Xplorer Maps is proud to include "Great Smoky Mountains National Park" into their ever-growing map collection of National Parks and significant destinations worldwide.
Xplorer Maps connects people and place one map at a time by using these one-of-a-kind, Hand-Drawn and Hand-Lettered illustrated maps to effectively "tell the story." Ultimately, the goal is to help protect and preserve the special places that provide inspiration for the maps as well as make memorable lifetime connections between people and place.
The illustrated Great Smoky National Park map is now available at selected retail locations, lodges, resorts, eight (8) Visitor Centers around the park and online at
www.xplorermaps.com
.
In addition to donating the original artwork for GSMA auction, Xplorer Maps will give back 5% of the proceeds from the sale of all maps and related products in perpetuity through GSMA. These funds will be invested in the Park's ongoing visitor programs that are educating and preserving this special place for generations to come. Learn more at www.smokiesinformation.org.