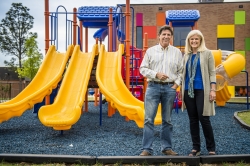 Edmond, OK, May 29, 2015 --(
PR.com
)-- Even in tough economic times, small businesses and non-profits throughout the United States are benefiting from the continued expansion of the ecommerce industry, according to an annual Economic Impact Report released this week by Google.
Noah's Park & Playgrounds, located in Edmond, was selected by Google to serve as Oklahoma's example of a business that is utilizing the Internet to find and connect with customers.
"We are proud to be the company to represent the great state of Oklahoma for the 2014 Google Economic Impact Report," says Shan Shepherd, co-owner of Noah's Park & Playgrounds. "This is a family business, and look where we're going. We would not be where we are today without Google."
"Google is well-known for helping people search for and find the information they want," said Margo Georgiadis, Google's President of Americas Sales. "Through our search and advertising programs, businesses find customers, publishers earn money from their online content and nonprofits get donations and volunteers.
The Economic Impact Report details how millions of businesses use our tools to make money. It's these solutions that make Google an engine for economic growth," concluded Georgiadis.
The growth is creating new opportunities for web-based companies, as well as brick-and-mortar establishments. Google helped provide $131 billion of economic activity for over 1.8 million American businesses and non-profits across the U.S. in 2014.
About Noah's Park & Playgrounds, Inc.
Since 2001, Noah's Park & Playgrounds has provided commercial-grade park and playground equipment, on a national level, to housing communities, schools, churches, daycare facilities, special-need centers, non-profit organizations, city parks, developers, and many more. Noah's Park & Playgrounds provides a vast selection of items from early childhood playgrounds, indoor playgrounds, ADA accessible play pieces, outdoor fitness equipment, sports equipment, and park amenities such as tables, benches, trash cans, bleaches, and shades. Noah's Park & Playgrounds specializes in design and bid consultation, commercial playground installation services and custom playground design services.
For more information about Noah's Park & Playgrounds or where Oklahoma stands in the Google Economic Impact Report, please visit www.google.com/economicimpact, email brendaf@noahsplay.com or call (405) 607-0714.