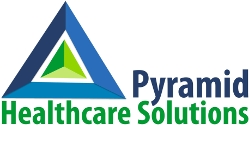 Clearwater, FL, June 08, 2015 --(
PR.com
)-- Pyramid Healthcare Solutions will exhibit at the Healthcare Financial Managements Association - National Institute's 2015 Annual Conference on June 22-25 at the Orange County Convention Center in Orlando, FL.
Critical topics including business intelligence, data analytics, payment trends & delivery models, revenue cycle & the patient experience, and cost management will be addressed.
"This year's topics and conference theme of 'Get Connected', resonates more than ever. In the face of critical cost pressures and uncertanties, organizations need to connect with partners who can support their revenue success. At Pyramid Healthcare Solutions our goal is to be your trusted partner in achieving positive finacal outcomes. We offer a full suite of Revenue Cycle solutions that we are excited to share with attendees," stated Brian Hudson, Pyramid Healthcare Solutions' Vice President of Sales and Solutions.
Pyramid Healthcare Solutions will be presenting at booth 748 in the exhibit hall. With more than 40,000 members, the Healthcare Financial Management Association (HFMA) is the nation's premier membership organization for healthcare finance leaders. HFMA builds and supports coalitions with other healthcare associations and industry groups to achieve consensus on solutions for the challenges the U.S. healthcare system faces today.
About Pyramid Healthcare Solutions
Founded in 1985, Pyramid Healthcare Solutions partners with healthcare providers to assess validate and resolve gaps in their revenue cycle, leading to improved and sustainable financial results. Pyramid offers a complete best-practice suite of revenue cycle solutions, including coding services (on-site and remote), HIM services, cancer registry, revenue cycle, revenue discovery, charge capture, accounts receivable management, patient financial services, human resources, managed care services, and education and training. Headquartered in Clearwater, Fla., Pyramid employs hundreds of credentialed, knowledgeable healthcare professionals and a full suite of best practices servicing over 500 clients during our 29+ years in the industry.
For more information on Pyramid Healthcare Solutions, visit www.pyramidhs.com.