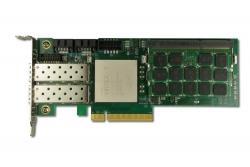 Denver, CO, June 10, 2015 --(
PR.com
)-- Alpha Data announces the availability of a CAPI acceleration development kit targeting the ADM-PCIE-7V3 board. The kit will enable designers to utilize Xilinx All Programmable FPGA devices attached to the coherent accelerator processor interfaces on IBM® POWER8™ systems. The development kit includes the PSL (Power Service Layer) to provide the infrastructure connection to the POWER8 chip, examples of user defined AFU (Accelerator Function Units), as well as OS Kernel extensions and library functions specifically for CAPI. This solution significantly reduces the development time required to offload data processing applications to FPGAs.
"Coherent Accelerator Processor Interface (CAPI) removes the software overhead for processor communication with the I/O subsystem, allowing an accelerator to operate as part of an application. CAPI on POWER8 systems provides a high-performance solution for the implementation of client-specific, computation-heavy algorithms on an FPGA. IBM's solution enables higher system performance with a much smaller programming investment, allowing hybrid computing to be successful across a much broader range of applications." -Brad McCredie–OpenPOWER Foundation President and IBM Fellow
"Alpha Data is working closely with Xilinx to accelerate innovation," said Hemant Dhulla, vice president of wired communications and data center at Xilinx. "Xilinx recently demonstrated a 36X performance/watt improvement on a Big Data application with an IBM POWER8 system and Alpha Data's CAPI development kit. The collaboration between Alpha Data, Xilinx, IBM, and the OpenPOWER Foundation is producing breakthrough performance using Xilinx All Programmable FPGAs."
The Alpha Data ADM-PCIE-7V3 PCIe form factor add-in card utilizes Xilinx FPGAs to deliver application-specific acceleration for Big Data workloads. The ADM-PCIE-7V3 is IBM Power8 CAPI capable, featuring a Xilinx Virtex®-7 X690T FPGA with dual 10Gigabit SFP+ ports for direct networking attach, two on-board SO-DIMMs for computing from local memory, and dual SATA interfaces for local data storage. OpenPOWER systems with AlphaData co-processors provide an ideal solution for next-generation data-centers.
For More Details
· Further details on the Alpha Data CAPI development kit and ordering options are available at:
www.alpha-data.com/capi
· Details for the ADM-PCIE-7V3 board are available at
www.alpha-data.com/7v3
.
· For more information about CAPI see the IBM White Paper:
www-304.ibm.com/webapp/set2/sas/f/capi/CAPI_POWER8.pdf
About Alpha Data
Established in 1993, Alpha Data is a world leader in FPGA platforms and systems. The company supplies essential hardware and development tools to companies developing innovative systems for high performance computing, defense, communications, signal processing, instrumentation and life sciences applications. Its products and services provide an integrated framework from prototype-to-production and support a variety of protocols and standards including CAPI, PCIe, OpenCL, CompactPCI, XMC, VPX, PMC/PMC-X, VME/VXS, and reconfigurable XRM-IO hardware formats. For more information on Alpha Data and its products, please visit
www.alpha-data.com