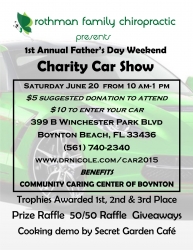 Boynton Beach, FL, June 12, 2015 --(
PR.com
)-- Rothman Family Chiropractic will be hosting its first annual Father's Day Weekend Charity Car Show to benefit Community Caring Center of Greater Boynton Beach (CCCGBB). The car show will be on Saturday, June 20 from 10 AM - 1 PM at 399B Winchester Park Blvd, Boynton Beach.
Dr. Nicole Rothman's goal for the car show is to bring people together, to have fun honoring all dads and to share her vision of health and wellness for our community. She has chosen CCCGBB as the beneficiary in order to create greater awareness of their mission to address the root causes of poverty by an innovative integration of social services programs, economic development (through small business incubation), nutrition education, and access to a healthy, affordable, and sustainable food center.
Special guest car judges include Boynton Beach Fire Department's Chief Ray Carter, Boynton Beach Police Department's Chief Jeff Katz, and CCCGBB's Executive Director Sherry Johnson. This is an open car show and all cars are welcome. It's only $5 to enter as a spectator and $10 to enter a car. Car entry owners will receive free pizza donated by Papa John's and Dean Anthony's. Home Depot will provide kids workshop kits to keep the kids busy, and many local businesses have donated prizes and giveaways. Right on Que Smokin' BBQ truck will be onsite. There will be cooking demonstrations and samples by Chef Philippe of the Secret Garden Cafe, one of the CCCGBB's programs.
The event is expected to bring many members of the community together for a fun and interactive family day here in Boynton Beach.
Rothman Family Chiropractic has been providing holistic services to our community for 17 years. She sees babies, children, teens, adults and seniors in her practice to optimize their health and well being through natural, drugless chiropractic care, holistic nutrition and lifestyle advice.
Sponsorships are available. For more information about this event, please call (561) 740-2340.
rfccarshow2015.eventbrite.com