DR DHA Says OMEDHA is a Balanced Prenatal Omega-3 Solution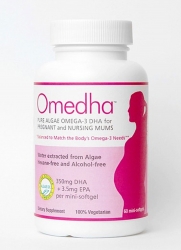 Chapel Hill, NC, June 29, 2015 --(
PR.com
)-- Source-Omega announces the launch of OMEDHA™, a professional prenatal DHA brand for sales in the USA, Singapore, Hong Kong, Taiwan and China.
"OMEDHA is balanced for safe and important care during a period when the public health is served by helping pregnant and nursing mothers, particularly during the second half of a pregnancy and during the first year of nursing," said Dr Scott Doughman, OMEDHA's inventor and Source-Omega's founder and CEO.
Over the years Dr Doughman has become dubbed DR DHA because of his training and expertise.
Putting his public health training and NIH-fellow expertise into a product led to OMEDHA, a 350 mg DHA + 3.5mg EPA mini-capsule of pure, water extracted algae oil, a balanced natural algae oil, without any fillers or secondary oils of any kind.
Doughman indicated "Only our oil, a >50% DHA algae oil, is in a natural form at concentrations that give a higher potency in a smaller capsule without the use of any chemical extraction, GMO-corn based growth media, foreign enzymes, or laboratory generated algae strains. Ours is a wild, natural, algae grown in controlled tanks and is water extracted and winterized for clarity and quality improvements. This may be the first algae prenatal DHA product that has no instability, precipitate formation, odor or taste issues. The world needs what is in this offering because the product gives effective levels of DHA for use by a pregnant and nursing mother."
OMEDHA is launched in advance of Source-Omega's next peer-reviewed publication, which is pending. That work includes the basis of DHA use in history, for modern personalized medicine and covers the safety and effectiveness of appropriate intake levels at greater than 600 mg daily during the second half of a pregrancy, Doughman revealed.
The company anticipates additional OMEDHA (www.omedha.com) distributorships in territories within the coming year.
About: Source-Omega, LLC (
www.source-omega.com
) is the leading Chromista algae oil innovations company since 2007 serving the public health. The company offers an exclusive US branded ingredient called SOURCE OIL(TM) which has made impacts with their new 50 percent DHA oil in triglyceride form made using a unique water extraction process, lowering prices and improving quality.
Contact
Source-Omega, LLC
Gene Wolf
919-360-5275
www.source-omega.com
11312 US 15-501 North, Suite 107-122
Chapel Hill, N.C. 27517, USA

Contact