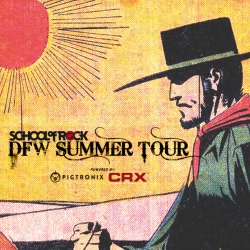 Dallas, TX, July 06, 2015 --(
PR.com
)-- Performance-Based Music School Takes Kids on an 11-City Club Tour
The 4th annual SCHOOL OF ROCK DFW SUMMER TOUR is ready to get under way on July 30. The School of Rock is the world leader in performance-based music education. In keeping with the philosophy that the best way to learn to do something is by actually doing it, they decided to pack up the van with candy bars and juice boxes and hit the road. The twenty-three kids performing on this tour represent some of the hardest working music students from not only the eight locations in the Dallas/Fort Worth area, but also from as far away as Bentonville, AR and Detroit, MI. Selected from a rigorous audition process, they will come together as a group for the first rehearsal on July 28, and leave for tour two days later.
Back for his third tour of duty, Southlake, TX school GM, Marty Morris, will be co-directing the group, along with Music Director and School of Rock cult icon, Ray Kidd.
"There is an almost exponential progression to being a musician," says Morris. "I think kids learn ten times faster in lessons than on their own, ten times faster rehearsing with a band than in lessons only, and so on and so forth. Touring is teaching music times a factor of 1000. The repetition of a tour helps season musicians more quickly than any other experience. Not only that, but it's the most fun a musician can have."
Classic rock rules at School of Rock, and this can be found at over 150 branches that have sprouted across the world. Students at every school are learning to play some of the most intricate classic rock with a keen focus on performing the music before live audiences in actual concert venues.
"Watching a band of kids let loose on the drums, bass, keyboard, or guitar is a beautiful thing, and what these kids take away is immeasurable," says Terry Longhway, co-owner of School of Rock franchises across the United States. "Our school is edgy but always safe, and we're solely focused on meeting the needs of our families by celebrating the majesty of pure rock music." Morris believes the tour experience helps teach young musicians in other ways, too.
"The road teaches the kids what being a working musician is really about--how 23 hours of the day are spent working to get to the next one-hour gig, and how that lifestyle is difficult in it's unique way. More than anything, though, touring teaches teamwork, resilience, and how to be consistent by staying in the moment. A bad gig in St. Louis the night before is no more important to us in Wichita than that great gig three days ago in Detroit. Every day is a new day, and a fresh chance to show what you're made of. And you make friends for life."
Are you still skeptical about how well the School of Rock method works? Then you had best pop in your earplugs and prepare to rock out. Check out the SCHOOL OF ROCK DFW SUMMER TOUR schedule and be sure to catch a show when the kids come to town.
Thursday, July 30, Ft. Worth, TX - The Aardvark, 6 p.m.
Friday, July 31, Fayetteville, AR - Smoke & Barrel, 9 p.m.
Saturday, August 1, Kansas City, MO – OZ, 6 p.m.
Sunday, August 2, St. Louis, MO - The Bootleg, 6 p.m.
Monday, August 3, Chicago, IL - Beat Kitchen, 6 p.m.
Tuesday, August 4, Detroit, MI - Token Lounge, 6 p.m.
Wednesday, August 5, Nashville, TN - TBA
Thursday, August 6, Memphis, TN - Hard Rock Cafe, 6 p.m.
Friday, August 7, Little Rock, AR - Juanita's Cantina & Ballroom, 6 p.m.
Saturday, August 8, The Woodlands, TX - The Wall, 6 p.m.
Sunday, August 9, Dallas, TX - House of Blues, 6 p.m.
About School of Rock
School of Rock is fostering the next generation of great artists and redefining music education. Through a unique performance-based approach, students are guided from the lesson room to the stage where they play real shows at authentic venues with their peers. School of Rock's collaborative environment inspires students to learn and excel and instills a confidence they carry with them for the rest of their lives. With more than 150 locations in nine countries, School of Rock inspires the world to rock on stage and in life. For more information about School of Rock and its many locations, visit www.SchoolOfRock.com