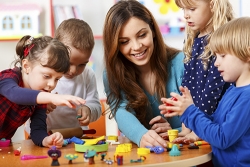 Houston, TX, July 14, 2015 --(
PR.com
)-- "The future looks bright with organizations such as Trumpet Behavioral Health leading the way," says Dr. Mark Dixon, BCBA-D, editor of 'Behavior Analysis in Practice,' a peer-reviewed translational publication designed to provide science-based, best-practice information relevant to service delivery in behavior analysis.
Families seeking leading autism therapy services in northwest Houston will now have access to an additional option as Trumpet Behavioral Health (TBH) opens doors to a new center-based autism therapy program on July 27th. The Cypress Autism Center is located at 15703 Longenbaugh Drive, Suite H, Houston.
TBH clinical services are based on the principles of Applied Behavior Analysis (ABA), a systematic, evidence-based approach designed to address challenging behaviors and skill deficits in areas including communication and social skills.
Trumpet currently operates one Autism Center in Pearland which employs a team of 14 individuals focused on maximizing the potential of clients of varying age and cognitive function.
Sarah Veazey, Senior Clinician and Board Certified Behavior Analyst with Trumpet's Houston locations, details the decision to grow TBH's center-based services in the region.
"When first starting services in Houston, families constantly inquired about behavioral therapy in the Cypress area. Since establishing a center in Pearland, the need for services in Northwest Houston has continued to grow. We are excited to bring this needed resource to the families of the Cypress area."
Veazey notes that families of a child with autism who live in the greater Houston area also have voiced the need for more resources. The new location, says Veazey, will provide convenience for traveling and added opportunities for parent trainings and workshops.
"Research tells us that early intervention with intensive services sets an excellent foundation for learning. We look forward to serving children and families in this area and helping to build that foundation."
ABA Programs and Services Available from Trumpet Behavioral Health Include:
• Intensive Educational and Behavioral Services
• Early Intervention ABA Therapy for Autism and Related Disorders
• Center-Based Direct Instruction
• Language/Social Skills Acquisition
• Family Support and Skills Training
• Assessment Services
• Consultation Services
• Seminars and Conference Presentations
School-Based Behavioral Health Services
• Functional Behavior Assessments
• Program Design and Evaluation
• Individual Treatment Plans
• IEP Development and Support
• Teacher Training and Support
• Classroom Evaluations
• Coordinated Service Plans with Teachers
Parent and Family Services
• Parent Education and Training
• After School ABA Services
• Intensive Educational and Behavioral Services
• Insurance Services
Adult Development Services
• Transition Support Services
• Daily Living Skills and Community Safety
Widely recognized as the most effective treatment for children with Autism Spectrum Disorders and other exceptional behavioral needs, ABA therapy is endorsed by the U.S. Surgeon General, American Medical Association, and the American Academy of Pediatrics. It is the only therapy with more than 30 years of research proving its effectiveness for autism spectrum disorders.
Texas is one of 41 states with Health Insurance Mandated Autism Treatment (HIMAT), a state law that requires certain types of private group health insurance policies to cover treatment or Autism Spectrum Disorders, including ABA therapy.
To help families simplify the process of obtaining coverage for ABA Therapy services, Trumpet offers free insurance eligibility reviews, handled by specialists who have expertise in navigating the "ins and outs" of insurance mandates, benefits plans and diagnostic requirements. Parents can complete their requests online at
www.tbh.com/insurance
or they can call toll-free 1-855-824-5669, option 2. Reviews currently take five to 10 business days.
About Trumpet Behavioral Health
For more than 30 years, Trumpet Behavioral Health (TBH) has been providing families with exceptional, outcome-based treatment based on the principles of Applied Behavior Analysis (ABA). TBH offers evidenced-based behavioral health services to children and adults with ASDs and their families using a compassionate, client-centered approach. Our network of over 800 highly skilled board certified clinicians and trained professionals all focus on maximizing the potential of the individuals, families, and professionals we serve.
Through clinical research, we strive to establish the most effective and efficient treatments as standard practice in our organization. Many of our clinicians are Board Certified Behavior Analyst® (BCBA®) and Board Certified Assistant Behavior Analyst® (BCaBA®) providers. TBH is a privately held company providing clinical services in Arizona, California, Colorado, Hawaii, Illinois, Kansas, Missouri, Ohio, Texas, and Wyoming.
About Dr. Linda LeBlanc, BCBA-D, Executive Director of Research and Clinical Services
Linda A. LeBlanc, Ph.D., BCBA-D® is the Executive Director of Research and Clinical Services at Trumpet Behavioral Health. Dr. LeBlanc is a Board Certified Behavior Analyst – Doctoral, a Michigan Licensed Psychologist, and a Fellow of the Association for Behavior Analysis International.
She has published over 85 articles and book chapters and is a current associate editor of Education and Treatment of Children and The Analysis of Verbal Behavior, as well as a former associate editor of the Journal of Applied Behavior Analysis and Behavior Analysis in Practice.
Dr. LeBlanc received her Ph.D. in 1996 from Louisiana State University and previously served on the psychology faculties at Claremont McKenna College from 1997-1999, and at Western Michigan University from 1999-2008.
Says Dr. Mark Dixon, BCBA-D, "She has already become a household name among the top behavior analysts in the world."