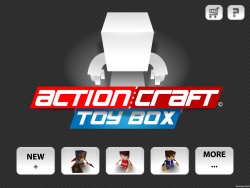 Las Vegas, NV, July 17, 2015 --(
PR.com
)-- ActionCraft Toy Box is an arts and crafts mobile application created by Taktyl Studios that will provides users with tools to design and customize their own paper toy action figure. You can choose from a variety of templates to customize, print, and assemble. All you need is the mobile app, a printer, glue, a pair of scissors, and lots of imagination.
In an era where the digital device is king and kids no longer play outside, climb trees and get dirty, at Taktyl Studios they aim to develop projects that encourage the use of hands and tangible materials to create a unique experience that can be shared by parents and kids together.
To get this mobile app to market, there is an ongoing Kickstarter Campaign happening now until August 4, 2015 to help ActionCraft Toy Box raise funds needed to complete the app. For more information, please find ActionCraft Toy Box on the Kickstarter website.