Vybronics Introduces New Linear Resonant Actuators LRA for Haptics and Vibration Feedback Applications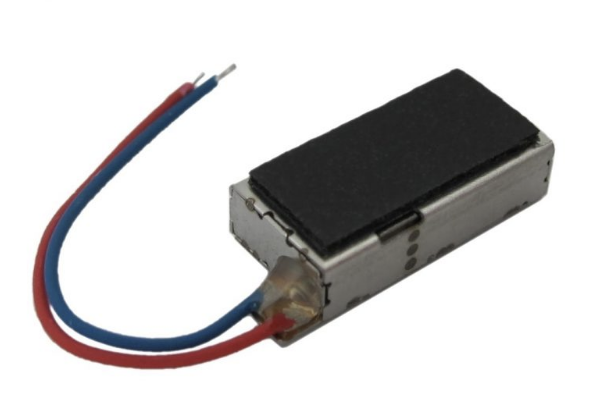 Whenzou, China, July 21, 2015 --(
PR.com
)-- Vybronics has launched two new linear resonant actuators (LRA). Unlike traditional ERM vibration motors, these devices generate a vibrating force only in the horizontal X axis. Because of their fast rise times, these devices are ideal for haptic feedback applications that require a totally enclosed, low profile package. Vybronics recommends that an LRA driver IC be used with these devices.
The VL120628H linear vibration motor measures 6mm x 12mm x 2.8mm and requires an AC drive signal of 200 hz. When driving this LRA at 2.0 Vrms it generates a G force of 1.8 G (100 g)
The VLV041235L linear resonant actuator measures 4mm x 12mm x 3.5mm and requires an AC drive signal of 180 hz. When this LRA is driven at 1.8 Vrms it generates a G force of > 1.0G (100 g).
About Vybronics
Vybronics is a leading manufacturer of vibration motors and DC micro motors. In business since 1993, they have factories located in Whenzhou, Shanghai, Shenzhen, ChongQing and Huaibei, China all of which are certified ISO 9001:2008. All products are both RoHS and REACH compliant. Sales offices are located in China and the USA.
For further information visit
www.vybronics.com
or contact the sales department at sales@vybronics.com
Contact
Vybronics (HK) ltd
Shi Jian Wong
+852 3002 4470
www.vybronics.com

Contact