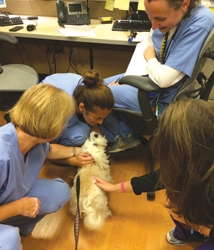 Derby, CT, July 25, 2015 --(
PR.com
)-- Honey, the office Havanese, and her human partner, Elizabeth P. Ball, President and Creative Director of TFI Envision, Inc. will be representing the canine Therapy Animal Program at the upcoming Service & Assistance Dog Appreciation Day event on August 1st at the Kellogg Environmental Center.
This free event will allow people the opportunity to meet a variety of service dogs and their handlers to learn more about the special skills their dogs have learned and the duties they perform.
Represented at this event will be:
Guiding Eyes for the Blind; Pet Partners; State Police K-9 Unit; Bed Bug Detection Dogs; Therapy Dogs; Special Assistance Dogs Support Dogs
There will be dogs of many sizes and breeds. Everyone is invited to attend (but please leave your pets and dogs at home). They will also be collecting donations of dog food to go to local animal shelters.
Stop by on August 1st, 10am to Noon at the Kellogg Environmental Center, 500 Hawthorne Avenue, Derby, CT.
The attached photo shows Honey in action at a local healthcare facility, providing stress relief and giving lots of love, while receiving lots of attention herself. One of the skills required for Therapy Dogs is to be calm and at ease, even when 4 different people touch her at once while lots of other noise and activities are going on nearby. She remains focused and relaxed, allowing people to enjoy her soft, fluffy coat and charming disposition.