PrivatePlus Mortgage Partners with Westwood One and Charles Osgood in National Radio Expansion
Atlanta-based mortgage company gets creative in bringing mortgage news and information to consumers in 49 states + the District of Columbia.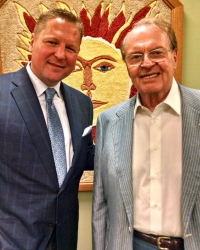 Atlanta, GA, August 10, 2015 --(
PR.com
)-- PrivatePlus Mortgage has entered into a partnership with Westwood One, owned and operated by Cumulus Media, which will add the voice of broadcasting icon Charles Osgood to the national mortgage organization's ads beginning August 11. Osgood, host of The Osgood File, is heard four times weekday mornings on 345 radio stations nationwide.
"Our national radio campaign has been successful and evolving and this takes it to the next level," says Dan Smith, the President of PrivatePlus, who until now has been the primary voice of PrivatePlus on the airwaves. "We are so pleased and excited to work with Charles. He appreciates what we do and we appreciate what he stands for. Charles' credibility and authority will help us bring more mortgage news and information to listeners, with more than 1,000 ads a week deployed."
Westwood One, headquartered in New York, focuses on radio syndication and audio content, and is the home of The Osgood Files, which has one of the largest audiences of any network radio feature. Osgood also is the anchor of CBS News Sunday Morning.
In noting the energy Osgood brings to PrivatePlus' ads, Smith shares that Osgood has been referred to as CBS News' poet-in-residence because of his way with words, including having presented his commentaries in rhyme. "Charles asked insightful questions during this process, as you would expect a veteran journalist to, and it helped tease out mortgage information and market differentiators in fresh ways," Smith says.
The partnership will run for an initial period of 90 days, which will include interview excerpts on The Osgood File. In addition to Osgood, Smith will continue as an on-air spokesperson for PrivatePlus.
PrivatePlus Mortgage
, a division of
Private Bank of Buckhead
, promises great products, pricing, processes and people. It offers a full range of mortgage products: Purchase, Refinance, Investment, Jumbo products, Second home, Construction, Multiple collateral, Fixed second, Home equity, Lot loan, and more. PrivatePlus originates mortgages in 49 states and the District of Columbia. The Private Bank of Buckhead family also includes the
Private Bank of Decatur
division.
Contact
PrivatePlus Mortgage
Drew Plant
404-634-7102
www.PrivatePlusMortgage.com

Contact