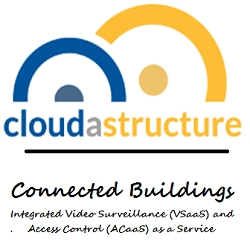 Palo Alto, CA, August 13, 2015 --(
PR.com
)-- Cloudastructure Inc., the industry leader in cloud based integrated access control (ACaaS) and video surveillance (VSaaS) as a service, today announced the general release of the Cloudastructure Connected Campus Security SolutionTM.
According to IHS, a premier provider of industry information and expertise, the global market for video surveillance equipment in the education end-user sector will grow by 15 percent in 2015 and earlier predicted that US market for school security systems will reach $4.9 billion in 2017. Regulatory reforms coming into effect post the Sandy Hook School Massacre are driving the heightened adoption of video surveillance by schools and colleges across the country.
Cloudastructure Connected Campus Security Solution overcomes the safety and security challenges faced by educational institutes in the form of disconnected campuses, new staff and student enrollments every year and information confidentiality mandates. By delivering a robust, video surveillance and access control system, it helps prevent acts of vandalism, bullying, drug abuse and other anti-social behaviors such as theft and information leaks.
The solution delivers bi-directional integration between video surveillance, motion sensors and access controls utilizing rule based intelligent analytics capabilities to provide a robust security environment across the campus..
"Cloudastructure has implemented enhanced use cases for several customers, with our largest deployment at one of the leading universities within the University of California system," said Rick Bentley, CEO, Cloudastructure, Inc. "We are excited to offer the Connected Campus Security Solution to get one more step closer to securing our educational institutions - across all buildings, sports and arts facilities, parking areas and numerous entry/exit points."
Cloudastructure Connected Campus Security SolutionTM delivers a multi-location cloud service with flexible storage options, analytics support, alerts and notifications, and works seamlessly with the latest HD and IP-enabled cameras but can also utilize existing legacy infrastructure and analog cameras. The integrated solution delivered "as a Cloud Service" is available at industry's most competitive monthly subscription with no upfront capital investments and no equipment to be procured.
To get started, please visit
http://www.cloudastructure.com/education.html
About Cloudastructure
Cloudastructure delivers a cloud based infrastructure to provide Integrated Building Automation Solutions for Video Monitoring and Surveillance as a Service (VSaaS), Door Access Controls as a Service (ACaaS) , as well as integration with sensors to support your specific Internet of Things (IoT) initiatives. Cloudastructure solution delivers the intelligence online while it puts the data safely offsite. The Cloudastructure hardware utilizes state of art technology, delivered at a very competitive price that beats the industry standards and comes with zero maintenance or replacement costs with a life-time warranty. Cloudastructure solution centralizes the management of access control with video monitoring and allows customers to scale geographically to multiple locations.
Headquartered in Palo Alto,California, Cloudastructure was founded in 2013 as a result of the merger between Connexed Systems, Inc and Reach Systems, Inc.