Source-Omega Lowers Bulk Algae Oil DHA Price 33 Percent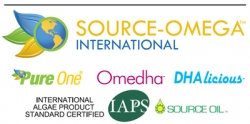 Chapel Hill, NC, August 13, 2015 --(
PR.com
)-- Achieving higher quality and lower costs, Source-Omega (http://www.source-omega.com) today lowered the US bulk oil price on premium 50 percent DHA algae oil by a third to stimulate their open source supply model with capacity access to 250,000 Kg per year.
The company launched their bulk oil product in 2012 under the brand SOURCE OIL™, which set the bar as the first water extracted DHA algae oil.
According to the company, SOURCE OIL is currently included in 4 private label finished products made in USA for 3rd parties with retail sales in over 4 countries.
Source-Omega is also able to protect the identities of private label buyers for their professional sales, something public companies cannot do.
"We proved higher quality. Now we prove lower pricing. Buyers may formulate or switch DHA suppliers to save significantly on their cost of goods to gain competitive advantages," said Dr Scott Doughman, CEO of Source-Omega.
The company is also preparing for a 2016 world premier launch of a "raw" form of SOURCE OIL at even lower pricing. Source-Omega's oils offer 20 percent higher concentrations of DHA which now provide several tiers of savings for DHA algae oil.
Contact
Source-Omega, LLC
Gene Wolf
919-360-5275
www.source-omega.com
11312 US 15-501 North, Suite 107-122
Chapel Hill, N.C. 27517, USA

Contact